Don't you just love launching new projects? Dreaming up the results you want and deciding where to start can be absolutely invigorating … but then what?
Who'll handle the various aspects of the work?
How long will it all take?
How can you keep everyone on the same page throughout the process?
And what will you do if something goes wrong? (Dun dun dunnnnnnn!!!)
You can certainly fly by the seat of your pants, and many entrepreneurs do. If you excel at thinking on your feet and thrive on flexibility, improvising as you go can work.
But if you prefer stability or have an entire team of people supporting you, you're better off making an action plan. Codify those steps BEFORE you dive in so expectations are clear, and work is divvied up appropriately.
Not sure how? I'm here to help! Read on to find out how to build out a simple, actionable plan for any project:
But first…click the image below to grab my free template & guide 👇👇👇
Make hiring for your team easier with a standard operating procedures manual. Whether you're hiring a VA, project manager or admin assistant, SOPs will create streamlined processes for your small business. Get the FREE template! 📋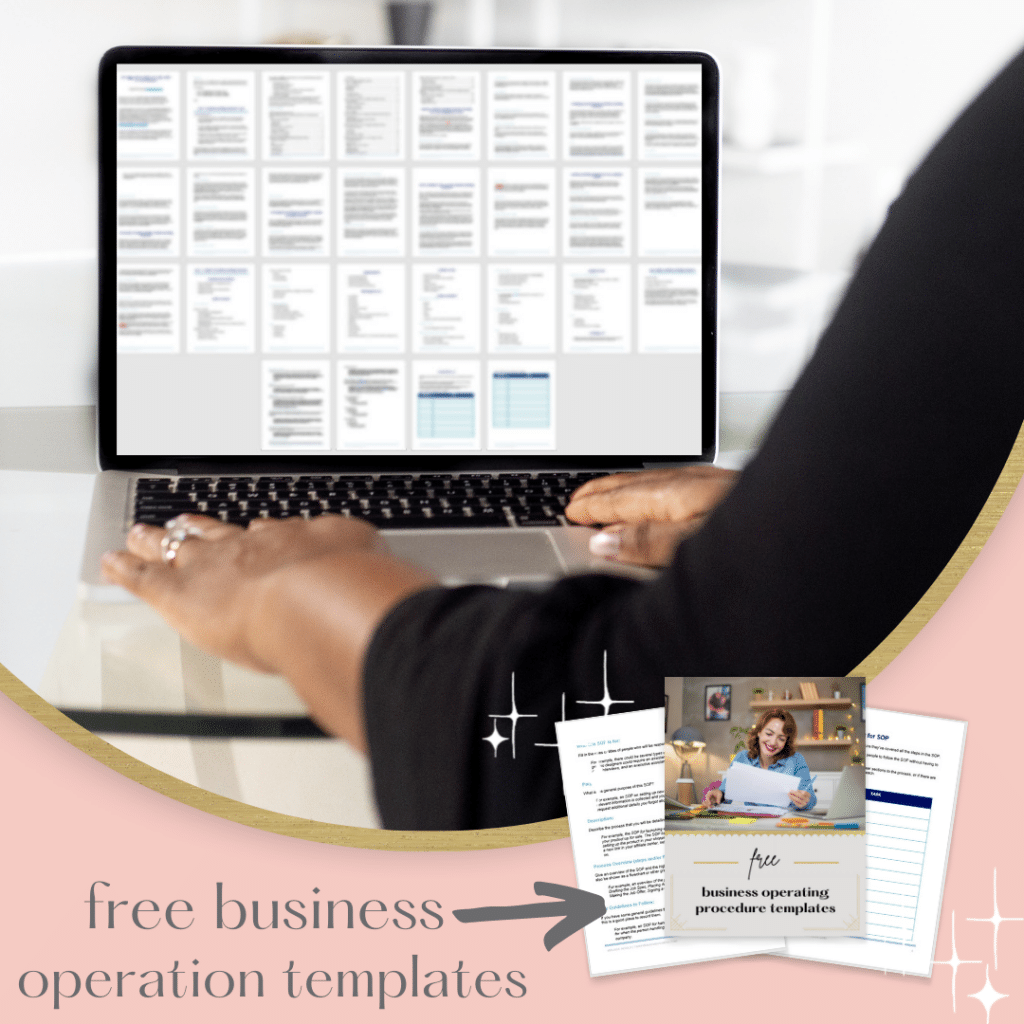 Before You Begin Planning, Set Dates + Delineate Roles
First things first: When does this project need to be complete? Is there a drop-dead date, a flexible deadline, or a window of possible times? Decide on the final milestone first so you've got a clear target to hit.
Then decide which team members will be involved. Will you need a designer? A writer? A video editor? An engineer or programmer? Consider the various components of the work, and get a clear picture of who should tackle them. If no one on your current team has the expertise for a specific aspect of the project, find contractors who could be hired to take it on.
Launch Your Action Plan with Your Team
Kick off the project with a big brainstorming session, ideally one that includes your entire team over video or Skype. You should have a list of the roles that you need to fill and the people you envision filling them, but stay flexible! If someone volunteers for an unexpected workload, you've got an opportunity to help her grow her skill set. List all the tasks that need to be completed, then discuss them with the team, and organize them according to who will handle them.
At this point, it's a good idea to start roughing out a timeline. Don't worry about being exact, but once you have team members assigned to workloads, sketch out which tasks will need to be tackled first. For instance, your writer might not be able to create copy for the sales page until she has an idea of how it will be laid out on your website … so page design should come before copy writing.
Build Your Plan by Reverse-engineering Due Dates
NOW it's time to get exact!
Get out a calendar, and work backwards from the goal date, filling in various tasks along the way. Again, be mindful of any dependencies; You can't build out a membership site until the platform is installed, and you can't install the platform until the hosting and domain have been purchased. Envision how components of the larger project are connected and link them sequentially.
As you do this, build in some wiggle room. Don't set deadlines on the absolute last day something can possibly be done; Instead, assume there will be delays and add some padding on either side of a deadline whenever you can. (Trust me, this will save you a world of pain!)
Beef Up Your Plan with Step-by-step Documentation
Now that you've got the calendar all set, check for and create (if needed) any instructions for various tasks.
If this project is similar to others your team has executed, they probably won't need every detail explained … but any new work or tasks should be clearly summarized. For example, if you're creating a video training and have branded intros and outros you use on all of your video content, be sure your video editor has both of those segments (along with any special instructions) long before the due date for the project.
Make Sure Your Plan is Shared with ALL Team Members
Once it's set, don't keep your action plan a secret! Everyone working on it should have access, and ideally be able to share updates on their own progress.
I highly recommend uploading your timeline or task list to a project management system such as Basecamp or Asana to ensure everyone can view and comment on the plan. But even a shared document in Google Docs or Dropbox can work in a pinch.
Schedule Regular Check-ins
You may not be able to plan for any hiccups or emergencies, but you CAN keep lines of communication wide open so that when something goes haywire you know about it right away. As the project progresses, insist on check-ins and updates at regular intervals.
If you've already got a weekly update meeting, you can just carve out a few minutes from that time each week. But if the project is a big one consider setting aside time to discuss it specifically.
See? Easy as pie! With these steps, you can keep all your projects, large and small, on track to success.
xoxo
Melissa
PS – Check out my VA Training Templates Library for dozens of templates and step-by-step plans that you can use to document all your business tasks, and then simply hand off to your VA.