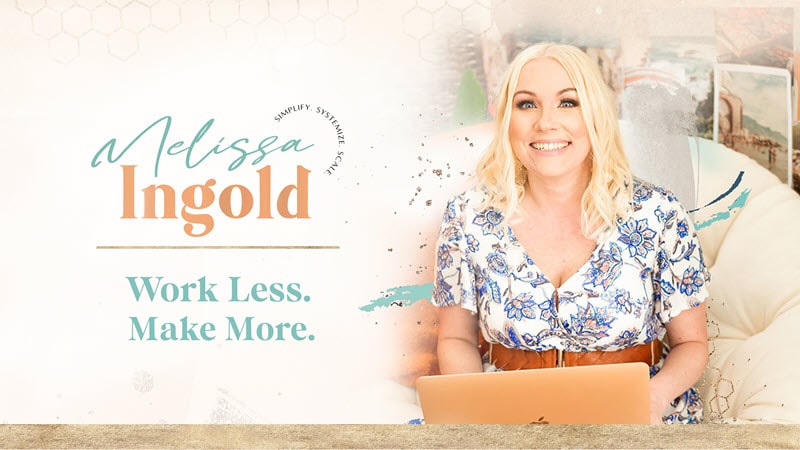 Are Your Clients Feeling Stuck in Their Business – But Don't know Why or What to Do About it?
Use this Done-for-You Content to Create a "Business Assessment VIP Day" to Help them Create Powerful Shifts and Make More Money!
Tried-and-true marketing tactics have lost their magnetism and magic and they're unsure if they need to jump ship to the latest marketing trend or double down on what they're already doing (maybe they just need to record more podcast episodes this season?)….
Or maybe their income has plateaued and their "consistent $10k months" just aren't cutting it anymore (or maybe even have turned into $2k months–or "no-k" months)…
Or maybe their once-flowing digital product sales have slooowed to an oh-so–painful (and tiny) drip, or their inbox or DMs are suddenly filling up with not-so-ideal clients (or worse, nothing at all–despite their constant refreshing)….
Or–and perhaps worst of all - they're feeling uninspired about their offers, clients and overall business (which all used to light them up, by the way) and they just want to burn it all down.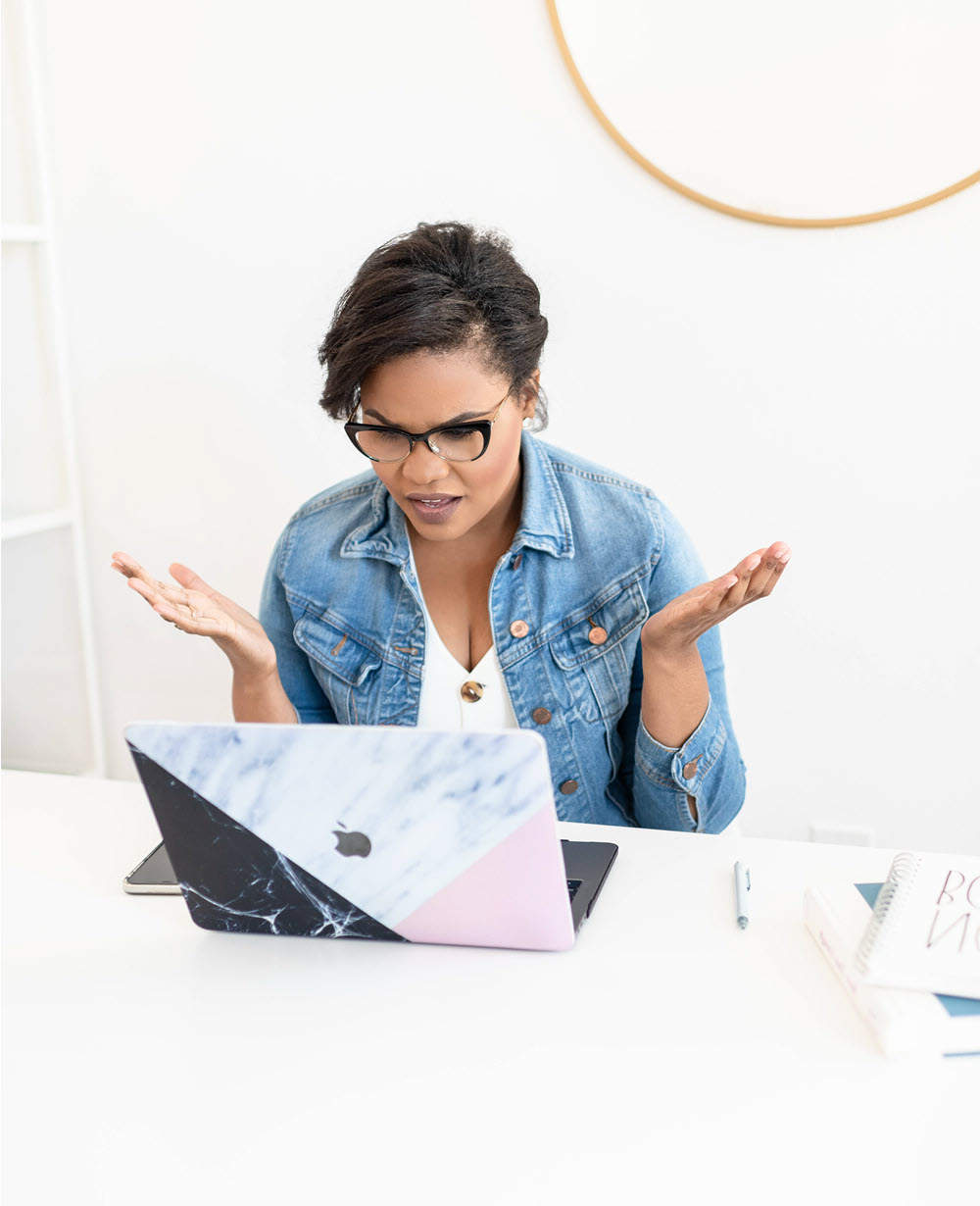 No matter which of the above scenarios sounds most like your clients, it's understandable if they're thinking…
"What in the world is happening in my business?"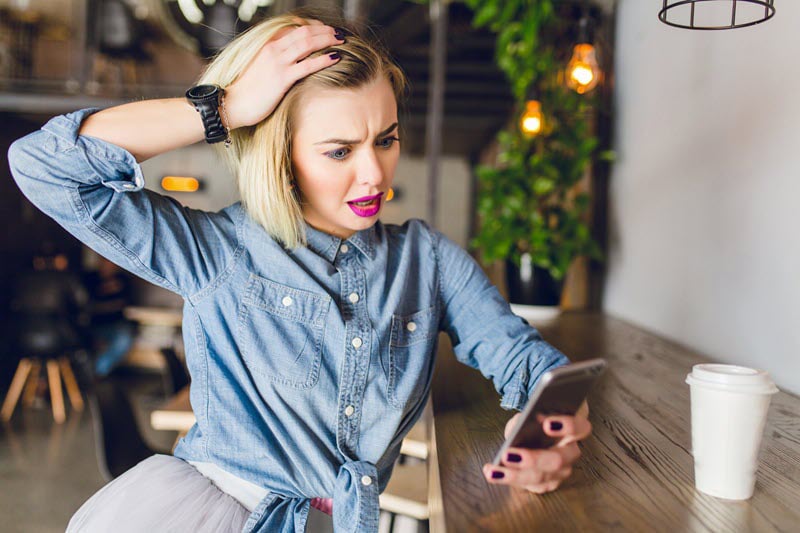 They want to continue to grow their business, their impact and their income.
They want to feel excited about their work, their clients, their business.
They want momentum, and they want to stop feeling like they're just slogging through their work each day. (If they wanted to do all that, they'd have left for a 9-5 years ago!)
They want to continue running (and growing) their business…
But they know something is off.
And they might even have a vague idea of what that "something" is – maybe they know their brand identity needs a major refresh, their offers aren't in alignment with what their ideal client wants and/or their systems require a major upgrade if they ever want to scale and reach more people.
What they don't know, though? Is what to do about it.
Enter the "Business Assessment VIP Day Script" that you can use to help your clients pivot, ov

ercome a rut or roadblock, or simply achieve new (or just plain better) results in their business.
Your "Business Assessment VIP Day" will quickly & easily help your clients figure out exactly what's "off" in their business and craft a strategic, data and alignment-driven plan to get unstuck, hit their next level and start loving (every part) of their business again.
Use this done-for-you script to walk your clients through their business, piece-by-glorious piece, to discern what should stay, what should go and what needs a major (or minor) tune-up.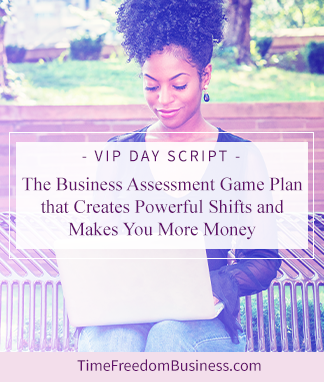 The business assessment VIP day is perfect for any business owner–total veterans and rookies alike–who's ready to dive deep into every facet of their business to figure out (and get radically honest about) what's working and what's not.
By the end, your client will have a clear picture of their current business and the business they desire. Plus, you'll help them craft a game plan for moving forward with more ease than they thought possible.
They'll walk away from your VIP Day with razor-sharp clarity on what they desire and what they don't. And they'll feel wildly more confident in what they offer, how they show up and how every little avenue of their business functions from top-to-bottom.
Just follow the script and guide your clients through a detailed assessment of the following five key areas of their business:
You'll leave no stone unturned or juicy question unasked.
Branding
Brand Identity

Visual Identity

Messaging

Brand Perception

Brand Consistency

Your Ideal Brand

Your Brand Game Plan
Marketing & Sales
Marketing Channels

Marketing Content

Other

Sales Process

Sales Conversion

Your Marketing & Sales Game Plan
Offer Suite
Offer Clarity

Value Proposition

Pricing and Packaging

Offer Feedback

Gaps and Opportunities

Offer Creation

Offer Delivery

Ideal Offers

Offer Assessment Worksheet 
Company Systems
Operations and Workflow

Customer Support and Satisfaction

Analytics and Data

Scalability and Growth

Ideal Systems

Your Company Systems Assessment Worksheet
Lead Generation
Target Audience

Lead Magnets

Landing Pages and Forms

Lead Nurturing

Ideal Lead Generation

Lead Magnet Assessment Worksheet
VIP Day Wrap-Up
Closing Remarks

Post VIP Day Assessment Action Plan 

Download this VIP Day Script for Only $97!
Use this script to create a VIP Day that will help your clients…
Feel wildly confident in their brand identity and message because it's aligned with their (current) beliefs and resonates deeply with their (current) ideal clients.
Feel excited about sharing their offers because they know they solve their ideal clients' most pressing pain points and problems.
Uncover exactly which marketing strategies & lead generation techniques are getting people on their email list & putting money in their pocket (and which aren't, so they can stop wasting time, energy and money on 'em).
Establish or re-establish efficient company systems so their day-to-day operations are smooth and they can easily scale in the future, too
Feel a sense of fulfillment while also watching their income and audience skyrocket.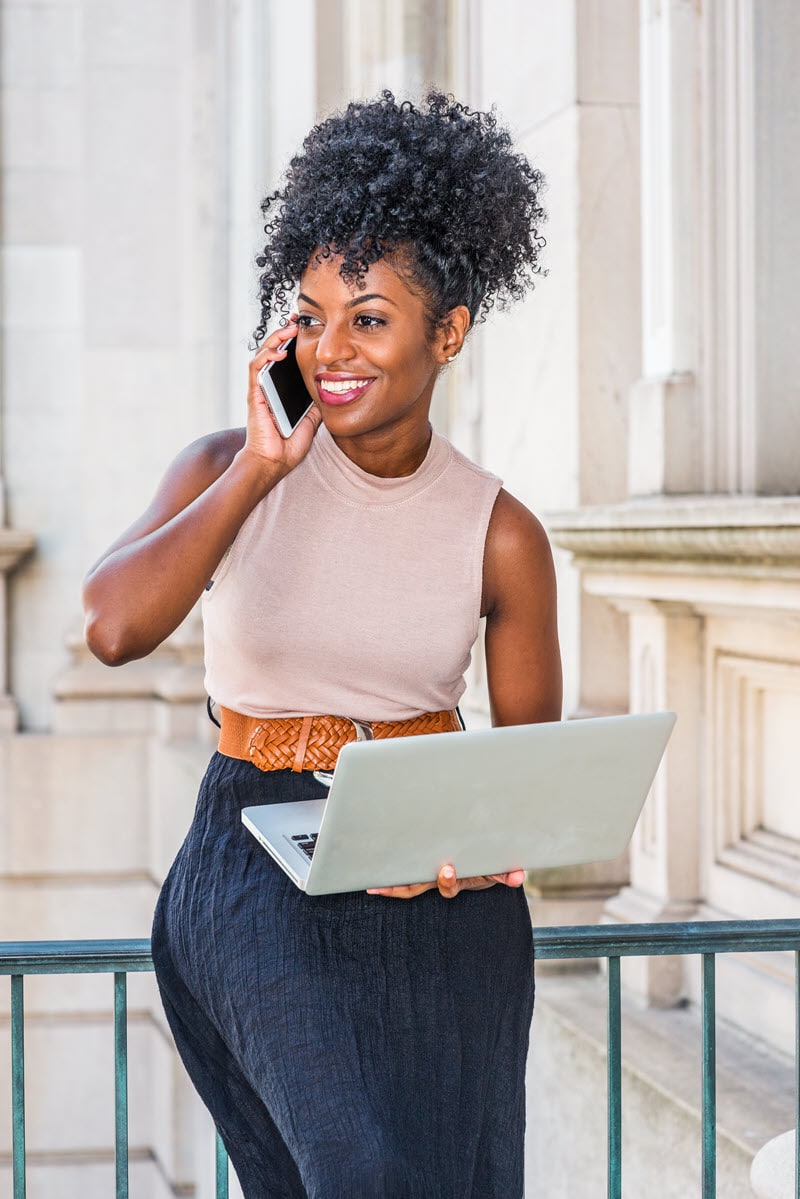 Download this VIP Day Script for Only $97!
Frequently Asked Questions
How will the VIP Day script be delivered?
How will the VIP Day script be delivered?
The script has been created as a word document and is completely customizable.
After making your purchase, you'll get an email with instructions about how to download the script.
I don't want to do a VIP day, can I use this script to create a group coaching program instead?
I don't want to do a VIP day, can I use this script to create a group coaching program instead?
Absolutely! If you'd rather work with a group of people instead of selling a 1:1 offer, you can use the content as the basis for a group program. The script would work the same the way…you would just be leading a group of people through the business assessment instead of one person at a time.
Here's how:
Create a 6 week program with each week covering one area of their business: branding, offers, lead gen, marketing & sales, company systems. And then on week 6, you can do a wrap-up that includes having your clients do a "post assessment action plan" worksheet.
You can easily create slides from the script content to develop a presentation for each week. And as you go through the questions, your clients can take notes, and you can open up for q&a and discussions. Plus, you'll have the worksheets to use as "homework" at the end of each week's training.
Can I use this VIP Day script with a client who works in a different niche?
Can I use this VIP Day script with a client who works in a different niche?
Yes! This script pretty much works with any type of business. Whether your client sells candles or trains dogs, you'll be able to help them do an assessment of their entire business including: branding, offers, marketing & sales, lead generation and company systems. 
Does this come with resell rights?
Does this come with resell rights?
No. This script is for use within your own personal business. Which means that you cannot sell it to anyone, give it away, or claim ownership of it. 
If you have questions about these terms of use, please contact us and ask.
What if I decide this isn't for me, can I get a refund?
What if I decide this isn't for me, can I get a refund?
Since this is a digital download product and you get instant access to the files, there are no refunds. 
If you have any questions before purchasing, you can reach out to us here.
Download this VIP Day Script for Only $97!