One of the best ways to retain clients is with amazing customer service … and yet, SO many entrepreneurs fail to bring their A-game in this department!
Even if your workshops or one-on-one engagements are totally life-changing, lack of follow-up or super slow response times can send clients running for the hills.
Your clients are like customers of all types: they want answers to their questions provided in a timely manner, they want guidance when they're confused, and they want to feel valued.
You don't have to meet all of these expectations personally—thanks to customer service centers like Zendesk and HelpCrunch that automate tasks and prioritize communications—but you need to have stellar support lined up to respond to client needs.
So what does first-class customer service look like? What should you seek when you start researching customer service apps and companies?
But first…click the image below to grab my "Client Happiness Team" project kit! 👇👇👇
If you want to get more done, have more fun, and delight your clients without answering emails at 2am, grab the kit to get your plan, templates, and checklists to set your virtual assistant up to help you with your business email! 📋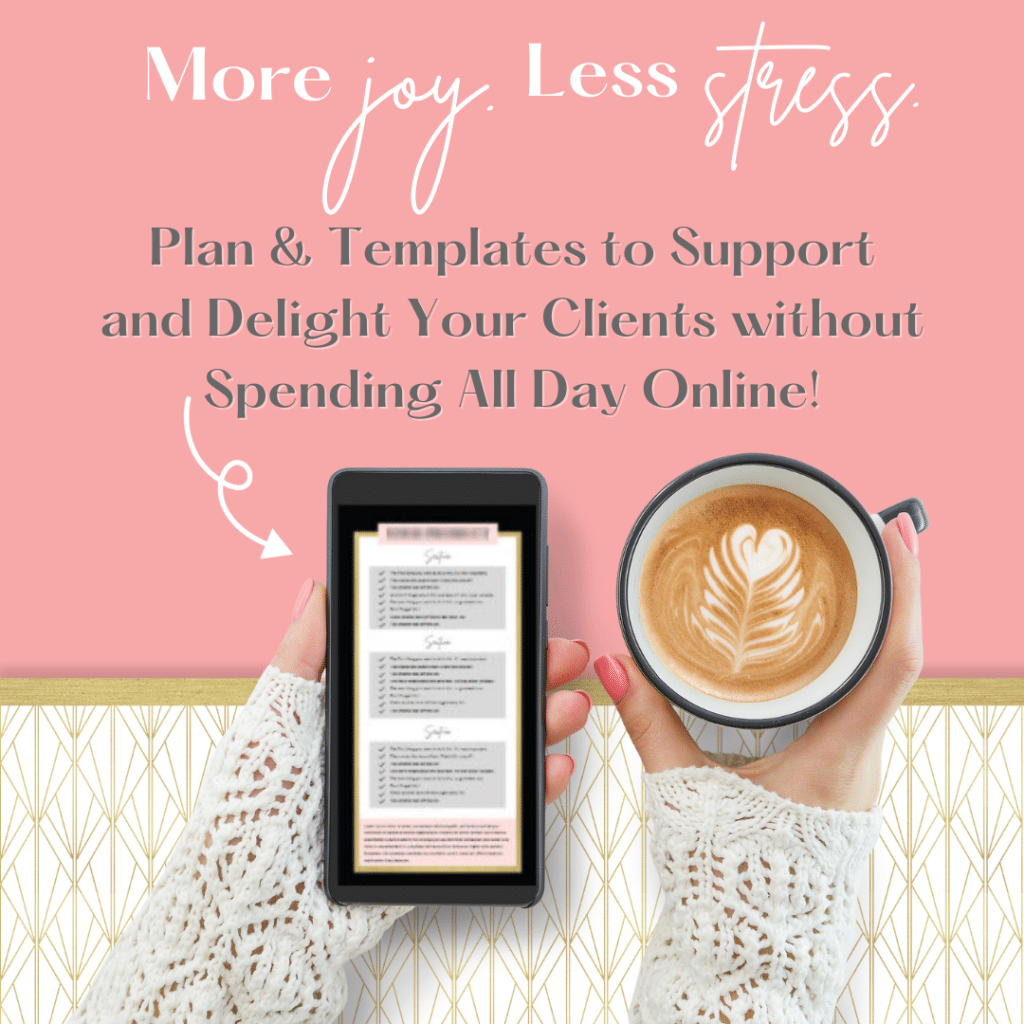 Customer service should enable business GROWTH!
You can probably guess at some of the most obvious and important elements of quality customer service like promptness, depth of knowledge, and customizability … but you might not think about customer service as a growth enabler. And it absolutely should be!
You want a customer service center that addresses your clients' needs first and foremost but also helps grow your business by making it simpler to generate more sales, issue fewer refunds, and create better JV opportunities.
How? By both answering questions and explaining other products or offerings that a client might want to buy.
By offering alternatives to refunds in case an exchange is possible. By earmarking repeat customers and inviting them to join your JV program. Good customer service answers questions and puts out fires.
GREAT customer service does those things and digs a little deeper to find out how to build an ongoing relationship with a client.
When you're screening services, investigate how their offerings might help you build your business in subtle but steady ways.
What your customer service center should do for your business
Your business is unique. This means that some customer service centers may have baseline offerings that you simply don't want to use with your own clients.
Most of us want someone to screen submissions from our contact pages and help resolve client issues, but only you know what will work best for your model, brand, and customers.
That said, here are some of the most basic tasks a high-quality customer service center should handle for you:
Make it easy for your clients to reach you. If you're a busy entrepreneur with multiple income streams and a virtual team to manage, you probably don't want clients to have a direct line to your inbox. But you DO want your customer service agents to be savvy and efficient middlemen, helping clients connect with you as soon as they truly need to.
Promote related products and services. Remember: think growth! Just about every client interaction that passes through your help desk should include a noninvasive pitch for another product or service.
Check all social media channels for any negative comments. You may not want your customer service center to respond to complaints or critiques, but they can certainly hunt them down and flag them for you. And, ideally, sort the trolls from the legit clients.
Respond to all client questions in a timely manner. Duh, right? But seriously, if you're paying for a service center, they should be replying to client queries within a few hours. Even if it's just to say that they're hunting down a better answer!
Check-in with your client often to make sure they are happy or if improvements can be made. Another business growth no-brainer! If your customer service center can help with personalized outreach—a huge step up from email funnels—they can help keep your services top-of-mind for both new and returning customers.
There are bound to be items I skipped that are crucial to your customer service needs, so before you go hunting for a service make your own list! What would you love to have covered, and what are your non-negotiables?
What YOU need to do to ensure your clients get the service they need
OK, OK, several of these tasks can be delegated to your virtual assistant or another team member. The point is they should not be entrusted to an outside customer service firm, but instead need to be handled by someone who understands your business on an intimate level.
Update your FAQ page frequently. This is not a one-and-done situation, lovelies! Your FAQ will need to shift as you add and retire offerings, and as your business begins to scale. This may be the very first place clients go when they have questions, so make sure it's up-to-date and truly helpful.
Collect testimonials from clients to share. While client endorsements are a great sales tool, they can also help prospects understand the depth and breadth of your offerings. When past clients explain how you've helped them, future clients have an easier time envisioning their own work with you!
Pay attention to clients' suggestions. While your help desk can collect suggestions, it's up to you to review and implement them. Don't just give feedback a cursory glance. Mine it for ideas and recommendations that will make your offerings even more impactful.
Focus on the quality of your work. Another duh? Should be, but I'm including it anyway because quality work is the foundation for robust customer service. If your workbooks are hard to decipher or your webinars impossible to understand, all the help desk support in the universe won't save you.
Honestly?
It's not hard to deliver first-class customer service to your clients.
Between a carefully chosen service center and a few tasks that you and your team can monitor, you'll have all of the important bases covered.
And when you can answer questions, respond to queries, and leverage every outreach point to build your business, both you and your clients will be absolutely thrilled.
If you want to get more done, have more fun, and delight your clients without answering emails at 2am — my "Client Happiness Team! How to Support Your Clients with First Class Customer Service" Project Kit could be for you!