Undoubtedly, your team of freelancers is organized, whip-smart, and over-the-top talented. But they're not superheroes: Like all people, they have strengths and weaknesses.
Which means you'll occasionally have a workload or project that's not quite right for your current fleet of contractors … and you may wonder how to outsource it without breaking the bank.
If you ever swap tips with other entrepreneurs, you've likely heard both glowing reports and horror stories about using Fiverr to outsource. This website is designed to connect business owners like you to skilled contractors, and offers an affordable, low-risk way to hire for one-off projects.
But! To get stellar results from your Fiverr hires, you need to know how to utilize this tool carefully and wisely.
Luckily, I've got 5 simple tips to help you outsource on Fiverr so your projects run smoothly and finish successfully!
How to Outsource on Fiverr Tip #1: Accept that Fiverr isn't perfect for everything
Although you CAN outsource just about any size or type of project on Fiverr, that doesn't mean you should. Seasoned Fiverr users caution against using the site to outsource anything that requires secure access to your business, complex long-term projects, or really anything you can't clearly define in a single email.
At least at first; Once you've worked with a Fiverr seller multiple times and have a feel for her talents and capacity, you might trust her to handle complicated or sensitive work. But at first, play it safe! And that means keeping it simple.
Fiverr is best for well-defined projects that can be completed quickly. Think graphic design, data entry (not data collection), writing blog posts (not writing books), videos for your sales pages or book trailers.
The scope should be clear, simple, and relatively small. If you can't explain it to a stranger in a few sentences, you probably shouldn't entrust it to a brand new Fiverr freelancer.
How to Outsource on Fiverr Tip #2: Be clear and communicative
Want your Fiverr projects to yield phenomenal results? Then don't put all of the responsibility on the freelancer!
As the buyer of services, it's your responsibility to make sure your expectations and needs are crystal clear at all times. That means explaining the project succinctly at the start, checking in at multiple points along the way, and giving helpful feedback at the end.
Just because you're hiring on Fiverr doesn't mean you get to to skimp on the training. I train the people I hire on Fiverr the same way that I train any team member.
For instance, I recently hired someone to create some graphics for me – so I created a detailed training video, templates, and provided her with clear step-by-step instructions before she started working on my project.
It's all about setting your freelancer up for success, and that means doing your part!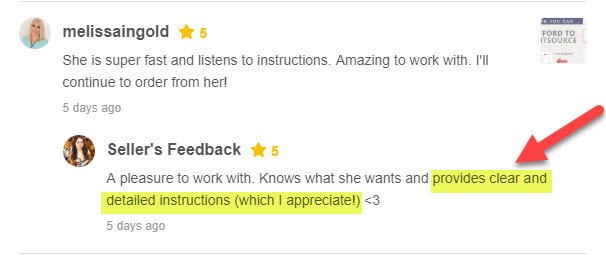 Fiverr contractors want you to be happy with their performance, but they can't deliver quality work if they have no idea what you want!
How to Outsource on Fiverr Tip #3: Use Fiverr for expert support
As an entrepreneur, you're likely to turn to Fiverr when a certain task can't be handled by your current team of trusted contractors. What you need is expertise, deep knowledge, insider info.
Fiverr is the perfect place to seek out support for work that requires highly specific skill sets and specialized support.
What does that look like in practice?
Fiverr is a fantastic resource if you need:
Small graphics work (though always be cautious of licensing!)
Voice overs
Videos (like having your blog posts turned into videos, or short videos for your sales pages, or a book trailer, etc.)
File conversion
Transcription
Research
Data compilation & analysis
All of these tasks require technical prowess and understanding. The fabulous thing about Fiverr is it gives you access to a massive pool of eager freelancers with valuable, specialized knowledge!
How to Outsource on Fiverr Tip #4: DON'T use Fiverr for consultation or guidance
Again, Fiverr is designed to be a one-and-done transactional marketplace. That means that hiring Fiverr sellers to work on core business functions, branding, or anything consultative is risky.
In my opinion, you should NOT look to Fiverr for ongoing virtual assistant work, website or logo design, brand development, marketing strategy, social media growth, or business planning. Those workloads are best left to trusted contractors and colleague-referred freelancers.
How to Outsource on Fiverr Tip #5: Be budget-conscious
Fiverr got its name from its offer of $5 deals on freelance design, writing, and creative work; the site was originally built on the promise of super-cheap services. But those days are long gone now!
Some gigs may actually cost you more than you would pay your existing team members, so be aware of price points for individual sellers.
Fiverr allows you to search for available freelancers by "Seller Level," which basically means level of experience and expertise. So as you begin to explore, remember that someone with a boatload of expertise won't be cheap but they might be fast and good.
Someone less experienced might be cheaper, but they could also be slow. And possibly not as talented. Balance your priorities, and always keep your budget in mind.
The bottom line?
Do look to Fiverr for: Some graphics (be cautious of licensing), voice over work, file conversion, transcription, research, data compilation & analysis.
Do not look to Fiverr for: website or logo design or brand development, marketing strategy, to grow your social media followers, SEO.
Be aware of your budget. Fiverr is no longer the place for $5 deals. Some gigs may actually cost you more than you would pay your existing team members.
xoxo
Melissa
P.S. Want to be certain your delegation plans give you the very best ROI? Grab my done-for-you project plans. They include everything you need to easily outsource all the projects that keep your business running. And best of all, you can do it without spending hours (and hours and hours) creating training and instructions. I've done all the work for you! Check them out right here.