In-person events may eventually become a thing of the past!
Okay, maybe I'm exaggerating just a little, but we've definitely seen a HUGE drop in live gatherings over the past year (for obvious reasons).
And, of course, many businesses chose to pivot to virtual events so their customers and fans could connect online.
Although the virtual events boom makes it seem like online conferences, workshops, and celebrations are relatively new, they've actually been around for more than 20 years!
In the beginning, they were pretty awkward and basic but still served to help people connect and communicate across great distances.
Fortunately, online events have evolved to be more fluid, versatile, and engaging.
They're also considerably more accessible now than in years past, which means that they can help YOU get in front of more clients and prospects.
In fact, I strongly recommend hosting a virtual event to promote your business in the coming year.
This may be uncharted territory for you, but don't worry: I'm here to walk you through ALL the steps you need to take to launch a wildly successful online event!
—————————
But first…click the image below to grab my Virtual Events Business Project Kit 👇👇
If you want to start connecting with thousands of ideal clients and industry leaders (and convert your high-level offers) get the project kit to help you and your virtual assistant plan, market, and manage your own successful online event! 📋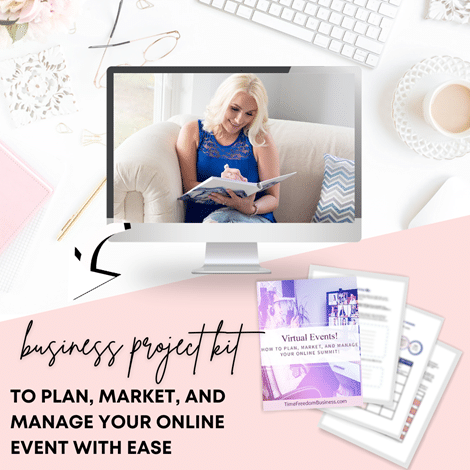 Step 1: Determine Which Online Event Format to Use
Like I said earlier, virtual events have come a long way over the past couple of decades, which means you can take your pick of streaming platforms.
There are also tons of formats to choose from including webinars, how-to's, courses, social live streams, and more!
Since you want this online event to be a roaring success, I suggest using a technology that you know and love for your platform; if you're a pro at Facebook LiveStreams, stick with that platform.
If you already use Zoom for other aspects of your business, you can link up with Eventbrite to create the virtual gathering of your dreams.
Don't force yourself to learn a whole new set of skills just to launch this event.
Format, on the other hand, is where you can experiment a little!
If you've already done tons of webinars, consider something more freeform and interactive like a live stream. If your video content typically features just you, try a panel discussion or group event.
Part of making this event a success is making it new, alluring, and irresistible to your audience.
Step 2: Create a Plan for Your Online Event
No matter how big or small an event is, you should ALWAYS have a plan in place long before you start promoting.
If you've never hosted a virtual event, don't worry.
Although you should eventually create a comprehensive plan for content, promotion, and logistics, you can just start by articulating the #1 goal for this event.
Do you want to gain followers?
Promote a new offering?
Connect with potential clients?
Once you've identified that top-line goal, you can reverse-engineer everything else to serve it!
For instance, if you want to gain followers on social media, you'll likely want to both host and promote your event on a social media platform. (Hosting on Zoom will make it harder for attendees to follow you!)
And that means you can't reasonably expect this to be a ticketed or money-making event. From there, you can start making decisions about how long you want the event to run, any co-hosting partnerships, and other strategic elements.
Step 3: Choose the Date and Time for Your Online Event
Timing is extremely important to success, but can also be VERY tricky.
If you inadvertently select a date or time of day that prevents your audience from attending, you may end up with a tiny crowd and less-than-stellar results.
Check the calendar to make sure there are no holidays or major events on the day you've chosen. Don't just skim for faith-based celebrations, consider things like huge sporting events and political rallies, too.
Then review your analytics to see when your audience is most active on your sites.
Scheduling your online event during the window when your fans are most active gives you a better shot at securing a place in their calendars.
Finally, take time zones into consideration.
It may be 7 p.m. on the West Coast where you live, but in New York, it's 10 p.m.!
You certainly can't please everyone when it comes to time, especially if you have fans in other parts of the world, but you can do your best to find a timeslot that will work for most folks.
Step 4: Promote the Heck Out of Your Online Event
Seriously. The only way to make this virtual gathering a tremendous success is to get the word out.
Decide on your key selling points and plaster them EVERYWHERE!
This includes all of your own social channels, guest posts, podcasts, your email list, and every other promotional avenue you can think of.
If you have a little wiggle room in your budget, you can even place a few ads to run on Facebook.
Side note: Registration for events tends to pick up about 2 to 3 weeks before the event, so put in some overtime marketing the event during that last-minute stretch.
Step 5: Prepare for Something to Go Wrong During Your Online Event
As the old saying goes, "You've got to prepare for the worst and hope for the best."
For virtual events, this mainly means you should have plans in place in case there are any tech issues.
The best way to do this is to schedule a dry run about a week before the event to work out any kinks and identify any weak spots.
It also helps to have your virtual assistant or another skilled team member on standby to troubleshoot and make them accessible to all attendees.
You don't want to be in charge of addressing any tech hiccups yourself once the event goes live!
Step 6: Build Buzz for Your Online Event
As the event nears, build up your audience's excitement and curiosity.
Drop some hints about what they can expect during the event to give them something to look forward to, or hold contests to increase engagement.
Ask attendees to submit questions before the event so you can answer them, or release polls to find out what they're hoping to get out of the experience.
Building buzz isn't just promotion or marketing, it's leveling up excitement through interaction and conversation. Consider how you can engage your audience in advance of the big day.
Planning your event will take some work, there's no doubt about that. But if you follow these steps, you'll have less stress, better sales, and a solid strategic plan to make your next EPIC online event one for the books!
xoxo
Melissa
PS. I Can't Make Your To-Do List Go Away…But My Business Templates Library Will Help You Avoid Project Overwhelm So You Can Build Your Business, Free Up Your Time, and Put More Money in Your Pocket!