If your business is built on great writing or personalized advice, it can be tough to admit that your content needs to be attractive as well as useful.
But, my lovelies, we're living in a design-centric world!
If your blog has Pulitzer-worthy posts but looks like it was designed in 1999, no one will read it. If your visual branding uses clunky fonts and mismatched colors, you're sunk. No matter what you offer to your clients, you need to make sure it's been packaged to match the quality and value of your services and products.
Visuals, presentation, and design choices are crucial. Totally clueless when it comes to Photoshop and Illustrator? Then it's time to outsource your graphic design needs.
Whether you turn to a freelancing site like Fiverr or Upwork, or opt to hire someone based on recommendations from colleagues, you'll need to have a clear picture of exactly which projects you want your designer to tackle.
If you feel ready to outsource graphic design but aren't sure where to start, here are 5 pools of design work to consider:
Outsource graphic design for your branding
If your overall brand needs an update, a great way to get it done is to hire a brand expert to work with you to create a cohesive look.
Your brand is the visual representation of your business, so you want to outsource this graphic design work to someone who specializes in more than just logos and fonts. Seek someone who can help you create a brand manual and guidelines, as well as creating a thoughtful and intentional look for your offerings.
Many graphic designers excel at pairing business mission statements and ideal client profiles with gorgeous color schemes, templates, and eye-catching logos. Hire someone with this level of expertise!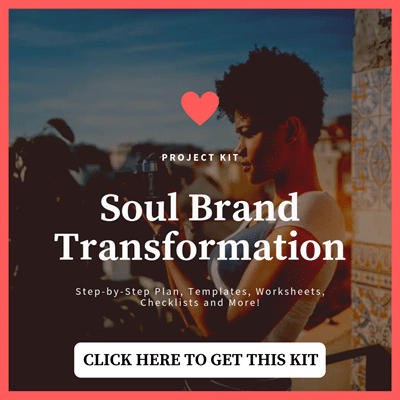 Outsource graphic design for your social media
Pinterest, Instagram, and even Facebook rely on great graphics, and outsourcing graphic design for these is an easy way to free up your time for a low cost.
This work is far less intensive than branding, and can be outsourced to someone with less experience and lower fees.
That said, you'll want someone who is dedicated and has plenty of availability; most businesses need LOTS of images and graphics for their social accounts, so you want a contractor who can churn out everything you need.
Outsource graphic design for your products
Beautifully designed PDFs, video intros, worksheets, and other visual elements increase the perceived value of your products. (And, on the flip side, slapdash design makes your offerings seem cheap and sub-par!)
I'd recommend that you outsource graphic design for your brand first to get some guidelines established, and then tackle your products; this will keep everything visually unified. If your branding designer does products, too, by all means hire her!
But even a graphic designer who does smaller-scale projects only can help create sleek, professional packaging for your downloadables and webinars.
Outsource graphic design for your event swag
Name tags, goody bags, banners, signage, and the other physical pieces that make for a memorable event deserve a professional touch.
Instead of asking your VA to reverse-engineer your brand and visuals onto these pieces, consider outsourcing graphic design for all your event needs.
Your IRL presence should be as visually beautiful as your online presence, so wow your attendees with gorgeous takeaways and decor. Graphic design is all about making a lasting impression, so hire a pro to make your event swag memorable.
Outsource graphic design for your website
If you only outsource graphic design for a single element of your business, make it your website. This is where the vast majority of your customers will first meet you, and the visual impression needs to be a fantastic one.
Remember that website design is a specialty, so hiring a freelancer who works mainly in print can backfire spectacularly. You want a designer who knows how to create an easy-to-navigate, gorgeous-to-view, and highly optimized look for your business. For a truly elegant and professional look, it pays to outsource your web design.
Still don't feel ready to outsource graphic design for your business?
Make a list of your concerns, fears, and needs. Then consider which visual elements need updating. When you reach out to potential designers, share your lists and be honest with them! The ones who make you feel excited about their ability to make YOUR business look good are the ones to hire.
xoxo
Melissa
P.S. No time to train your team? I hear ya! Now you can get your time back with my library of done-for-you training templates. I've done all the work for you, so you can simply hand off the plans and know the projects will be done the right way, every time. Go here to get access today.