Online businesses are different from traditional, brick-and-mortar ones in dozens of important ways, but there are some old-school tactics that can be wildly beneficial to us online entrepreneurs. One of the most popular?
A multi-tiered, perfectly timed product launch. It's such a fantastic way to build buzz and interest, grab the attention of potential new clients, and bring in revenue! A strategic launch rollout can absolutely make or break the success of a new online product, offering, or course.
Of course, a strategic launch also requires a TON of work. Which is why many business owners choose to hire a virtual assistant to help with course or product launch processes.
If you choose to launch alone, you may have to put everything else on hold for weeks in order to wade through all that work. Getting support for everything from pre-launch activities to delivery and follow-up makes all phases run smoothly, and allows you to keep other aspects of your business up and running!
Of course, you don't want to hire a virtual assistant who's ill-equipped to handle the scope and scale of a launch.
So here are 4 tips to keep in mind if you're looking for virtual support as you roll out your next online course.
Hire a Virtual Assistant Who Understands the Launch Process
Big launches require an experienced specialist, period.
Generalist VAs can help you lighten your workload in many key areas, but this is NOT one of them. You want someone who understands the launch cycle, knows what to expect, and has worked with other online entrepreneurs to get courses and products off the ground.
Before you hire a virtual assistant to help launch your offering, get recommendations from colleagues and friends who have done similar launches. You may have to pay a bit more for a specialist VA, but think of it this way: Hiring someone who has no idea how to navigate a launch may force you to re-do all of the work yourself! With a specialist, you'll get it right the first time.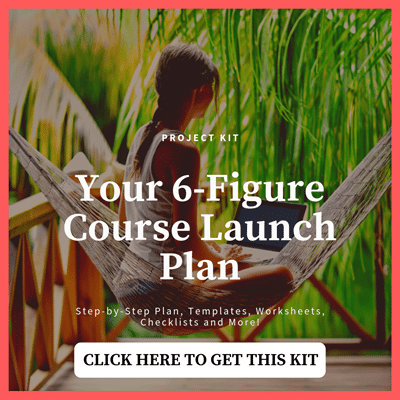 Hire a Virtual Assistant Who's Flexible
Although you definitely want the support of an experienced virtual assistant who knows her way around a launch, you also want someone who isn't too rigid about the process.
Sure, there are some standard steps and elements to an online course launch, but you may want to make a few tweaks … or even try something new!
Will you use the Jeff Walker-style video launch, promote with free webinars, or do something else?
Do you plan to utilize paid ads?
Will you make the podcast interview rounds?
If you hire a virtual assistant who believes that paid ads are a waste of money—even though they've worked beautifully for you in the past—you'll butt heads and waste time. Keep your own ideal launch process in mind, and seek someone who'll be a flexible collaborator.
Hire a Virtual Assistant Who's a Good Fit
This may sound like a no-brainer, but if you're an entrepreneur who's caught up in the heady excitement of pre-pre-launch, you may dive in without thinking!
Before you hire a virtual assistant to get your new course or product launched, make sure to interview all candidates thoroughly. Quiz them on their level of experience, make sure they have some familiarity with your specific membership model, ask about availability and flexibility, and check their references.
This is a big project, and a big component of your business. You want to make sure you're working with someone who is a truly good fit for YOUR needs.
Hire a Virtual Assistant Who's Willing to Be Paid a Flat Fee
A course or product launch is like a living, breathing being. It changes as the process rolls along, has unexpected needs, and often takes longer than you'd think.
Because of this, your ideal VA will be comfortable being paid for the entire project, rather than by the hour. You can work together to negotiate a fair fee and establish deliverables and due dates ahead of time. (An experienced launch specialist will be able to help with this; yet another reason to seek a pro!)
Consider hiring a virtual assistant who can be paid for hitting pre-determined project milestones, rather than handing over the entire fee at the beginning. This creates motivation and structure for you both, and will help keep the project on-track.
When you launch an online course or product, you're saying, "Hey world! I built this, I'm proud of it, and it's going to change your life!"
If you hire a virtual assistant to help make that launch possible, you want someone who will make everything run smoothly behind the scenes while you're out front promoting your stellar offering.
The right VA will support you in creating a strategic, thoughtful, and wildly successful launch!
xoxo
Melissa
P.S. Outsourcing sounds great until you think about how much time it will take to train a new team member. Am I right? Believe me, I've been there! The good news is that I've even documented everything for you, and for a limited time, you can get access to all my project plans to add to your own library!  Get my entire library of VA training templates right here.