Did you know that virtual summits are incredibly effective digital lead-generation tools?
These multi-person online events take some serious coordination to pull together, but the payoff is surges in traffic, opt-ins, AND sales over a short period of time.
And, of course, your virtual assistant can help with all the planning, logistics, and pre-event details, so all you have to do is show up and dazzle the attendees!

But first…click the image below to grab my Virtual Events Business Project Kit 👇👇
If you want to start connecting with thousands of ideal clients and industry leaders (and convert your high-level offers) get the project kit to help you and your virtual assistant plan, market, and manage your own successful online event! 📋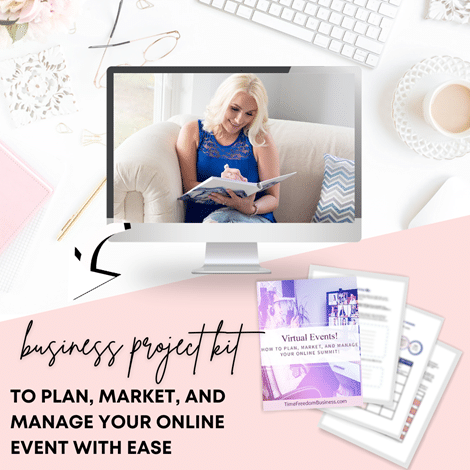 What are virtual summits and why should I care about them?
A virtual summit is a collaborative online event in which speakers are interviewed or introduced by a host. (The host gets the most visibility and air-time, so she's usually the summit organizer. Meaning YOU!)
It's basically an online conference that features panel discussions and presentations from a group of experts on a specific topic.
Virtual summits are powerful marketing tools for both experienced entrepreneurs and newbies … though it may be a bit easier for seasoned business leaders to do the networking and scheduling necessary to fill the roster with great guests.
However, many subject matter experts will sign on regardless since everyone enjoys the benefits of this online gathering, including:
Exposure to a larger audience
Connection with demographics other than your own
Networking with colleagues in your niche
Increased list numbers
The chance to pitch new products
A spike in new client leads
These summits don't cost too much to produce, but as I mentioned above, they DO require some serious elbow grease to coordinate.
If you are strapped for time or don't currently have a trustworthy VA to help with the planning, this might not be the right time to launch one yourself.
But if you're looking for a way to generate traffic, opt-ins, and sales all at once, this event will hit all three targets.
6 ways your VA can help you plan a fabulous virtual summit
Your virtual summit is a HUGE exposure, networking, and branding opportunity for your business, so you will want to handle a few aspects personally.
For instance, messages asking speakers to participate should come directly from you so your colleagues feel valued and treated as peers.
You'll also want to have a hand in planning the content and reviewing any scripts that you'll use during the live event.
But your virtual assistant can handle a ton of the logistical and communications work! Here are some of the tasks you can ask her to focus on:
1) PRE-PLANNING: Your VA can work with you on hammering out nearly all of the logistics including choosing the summit date that works best for your business, determining which tech and admin tools you will need to make the event seamless, and conducting market research so you can market successfully.
2) SPEAKER MANAGEMENT: Again, you may want to do the initial contacts yourself, but your VA can definitely take over once you've gotten confirmation!
Put her in charge of scheduling, coordinating details of participation, organizing speaker assets for presentations, and distributing any updates about the event.
3) PROMOTION: Pre-event promotion will be crucial, so work with your VA to create a comprehensive and strategic plan. Have her set up tech pages, create user-friendly registration pages, write email series to plug the summit, and create and implement a social media push so your whole tribe knows what's coming!
Your VA can also create promotional materials tailored to each of the guest speakers so all promos will be unified in their branding.
4) AGENDA REFINEMENT: Since you're the host of the summit, preparing the outline and agenda for the event can fall to you. But since your VA will be working with the various speakers, be sure to coordinate with her to make sure your vision is actually feasible!
5) COMMUNICATIONS: There will be A LOT that needs to be communicated to get this event off the ground! Ask your VA to handle any messages that need to be sent to your registered attendees, to your speakers, and to your affiliates.
Also put her in charge of replying to any questions, or funneling high-level inquiries to you.
6) FOLLOW-UP: Once the event is over, you'll want to capitalize on its energy and momentum. Closing the event down means sending thank you notes or gifts to the speakers, preparing a survey to gather attendee and participant feedback, sending a short series of emails to attendees reminding them to make final purchases, and recapping the summit on your social media.
This work can be spread out over a week or two, but your VA can ensure it all happens in a timely manner.
Before you launch your virtual summit …
There are relatively few pitfalls to hosting a virtual summit, but I'm gonna warn you about the big one: Make sure your tech works. And I mean works FLAWLESSLY.
You'll be coordinating with a variety of speakers who have a variety of levels of tech expertise, so it's always smart to do a dry run before the actual summit.
That way, you and your VA can address any issues before paying audience members start showing up on the event feed!
Once that's handled, you'll be ready to rock. Your virtual summit will help you reach new people, build strong relationships, and generate a boatload of new leads.
What could be better?