Summer has finally passed us by. (I know, I'm crying in my coffee about it, too!)
Now that the long, lazy, warm months are behind us, it's likely that your workload is starting to get a bit heavier. That back-to-school feeling hits us all, including clients, which means projects that were percolating in people's minds through July and August are ready to roll in early fall.
Before that avalanche of work descends, I'd urge you to get your office thoroughly decluttered and organized.
Hang on, hear me out before you flee in terror!
I've got a slew of reasons why this is THE BEST thing you can do for your workflow, efficiency, and state-of-mind after the summer holidays are over.
Why should I bother to declutter my office?
Well, gorgeous, I'll tell ya. Business owners like us—especially those of us who employ virtual teams—tend to think that our physical environments don't matter much.
We love a pretty office space as much as the next gal, but we're busy juggling dozens of tasks and may let the piles of mail and work drafts and notes get awfully high on our desktops.
Clutter may seem like a minor issue, but here are 3 reasons why messy home offices can become problematic:
Where did you put that contract? And what about the proofs of your new book? Are they filed somewhere or buried under last week's mail? A cluttered desk makes you waste your precious time searching for items you need.
An office space that's jammed with unopened Amazon boxes, spilled office supplies, and coffee-stained magazines is a procrastinator's DREAM. Distractions abound in a disorganized space, which is bad news for busy entrepreneurs.
Study after study has shown that clean, organized spaces facilitate creativity, increase productivity, and reduces stress. Tidying your office is literally good for your health!
While it does take some up-front effort to create your organized home office, the rewards will be huge. You'll be able to spend your time working instead of looking for things, experience fewer distractions, and get more work done.
Sounds good, right? And getting it all done in one intensive cleaning, organizing, and decluttering session is the absolute best way to go.
Here are my tips for making your space sparkle!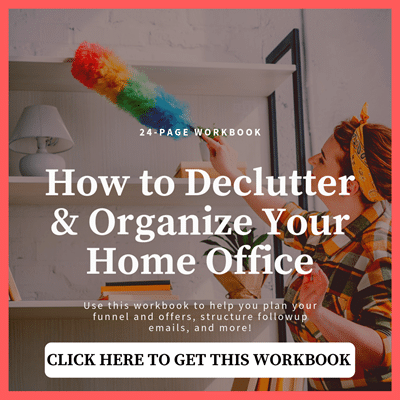 4 Simple, Fun Steps to Organizing Your Home Office
Not sure where to start?
Overwhelmed by the prospect of sorting through everything in a single go?
This plan will make everything feel manageable and painless, I swear.
STEP 1: Declutter first
You can't organize until you've sorted the essentials from the non-essentials, so start with a deep clean. So turn on your favorite Pandora station, grab your preferred form of caffeine and get cracking!
Tackle your desk first, making piles as you go; some categories to consider include "file," "keep in line-of-sight," "recycle," and "pass along."
Then go through the same process with any shelving units, tables, and surfaces. Treat each like its own project, make your piles, and move on to the next.
Once you've done everything in the entire room, consolidate your piles. Ditch the recycling, file what you can, and make a plan for getting everything else to its proper owner.
STEP 2: Create an office inbox
Even if your business is done entirely online, you WILL accumulate paper, printouts, mail, and publications. (I mean, obviously. The decluttering you just tackled proves it!)
So buy or make a physical inbox that will hold anything that needs attention within the week, and put everything from your "keep in line-of-sight" piles into it.
Consider making calendar events on Mondays and/or Thursdays to go through its contents – and make those sessions more fun by treating yourself to a fancy latte as you tackle everything lurking in your inbox.
STEP 3: Create binders for printed documents
Ever notice that filing cabinets are black holes for physical documents? Once something goes in, it may never emerge again!
Which might be fine for years-old tax documents, but isn't ideal for SOP manuals, scripts, style guides and other living documents that need to be kept updated.
So consider ditching the metal monstrosities and setting up binders for your printed docs. This allows you to access them more easily, and keeps your printed documents just as tidy and organized as any traditional filing system.
STEP 4: Organize drawers by category
It's so easy to chuck stuff in your desk drawers and forget about it … that is, until you need it again. Then you have to get your flashlight and hire a search party to wade through the mini-mountains of junk that have accumulated inside.
So as you dig into organizing your drawers, set them up by category; one for frequently used office supplies, one for business cards and other swag, one for cords and tech paraphernalia, etc. Dedicated drawers make locating items about 1,000% easier.
And while you're at it, consider adding some cute drawer organizers in bright colors or printed paper drawer liners to dress up your desk!
If you feel utterly disorganized, you can walk through these steps in order and get your office neat and tidy in a single day.
If you already have a semi-organized office, pick and choose from my suggestions and implement any new-to-you strategies!
Either way, consider adding a decluttering session to your post-summer to-do list. I promise you'll feel more focused, organized, and ready to tackle the work ahead of you.