If you've hired a virtual assistant to help with your business workload, chances are you've given her a specific set of tasks to manage each month. But some months are busier than others, and that workload may fluctuate!
What if your VA has already knocked out her entire to-do list and is twiddling her thumbs waiting for more work? You're already paying her, so how can you fill those hours?
Since this is a challenge that surfaces in my own work, I suspect it happens to many of you, too. With that in mind, I've created a monthly series of posts focusing on rotating work and projects that virtual assistants can tackle each month.
And since we're hurtling toward the holiday season, this month I've got holiday promos on my mind!
Why Should Your Virtual Assistant Help You Prepare for Holiday Promotions?
If you've never run holiday promos or weren't planning to dig into this work so early in the year, you might be scratching your head. So let me preemptively address your questions about why you and your VA should be tag-teaming this workload ASAP!
Why these tasks? Why should you care about holiday promos?
People tend to have a "treat yourself" mentality around the winter holidays, so this is often a high-revenue period for entrepreneurs. Yes, gifts are top priority but people spend on self-improvement in winter, especially New Years. And if you position yourself right, you can get folks buying your workshops, coaching sessions, and classes as gifts!
Also this work needs to be planned and completed well in advance of the actual holiday season, and if your VA is slow, now is the ideal time to call her in to help.
Why can't you just do these tasks yourself?
Undoubtedly, you will handle some of the work on your own. But if there's a ton to be done, support from your virtual assistant will help make it feel more manageable and get done on a reasonable timeline. (Also, you should never do everything yourself! Your time is not "free"!)
How will outsourcing holiday promo work help you make money and grow your business?
With the right strategies, your promos and products will reach new audiences during the winter holidays, bringing in new clients and revenue streams. That expands your reach and potential customer base, especially when you leverage email list-building tactics.
Even if you don't get a massive bump in revenue right away, sowing those seeds will help you in the long run, and balance out the money you've spent paying your VA for prep support.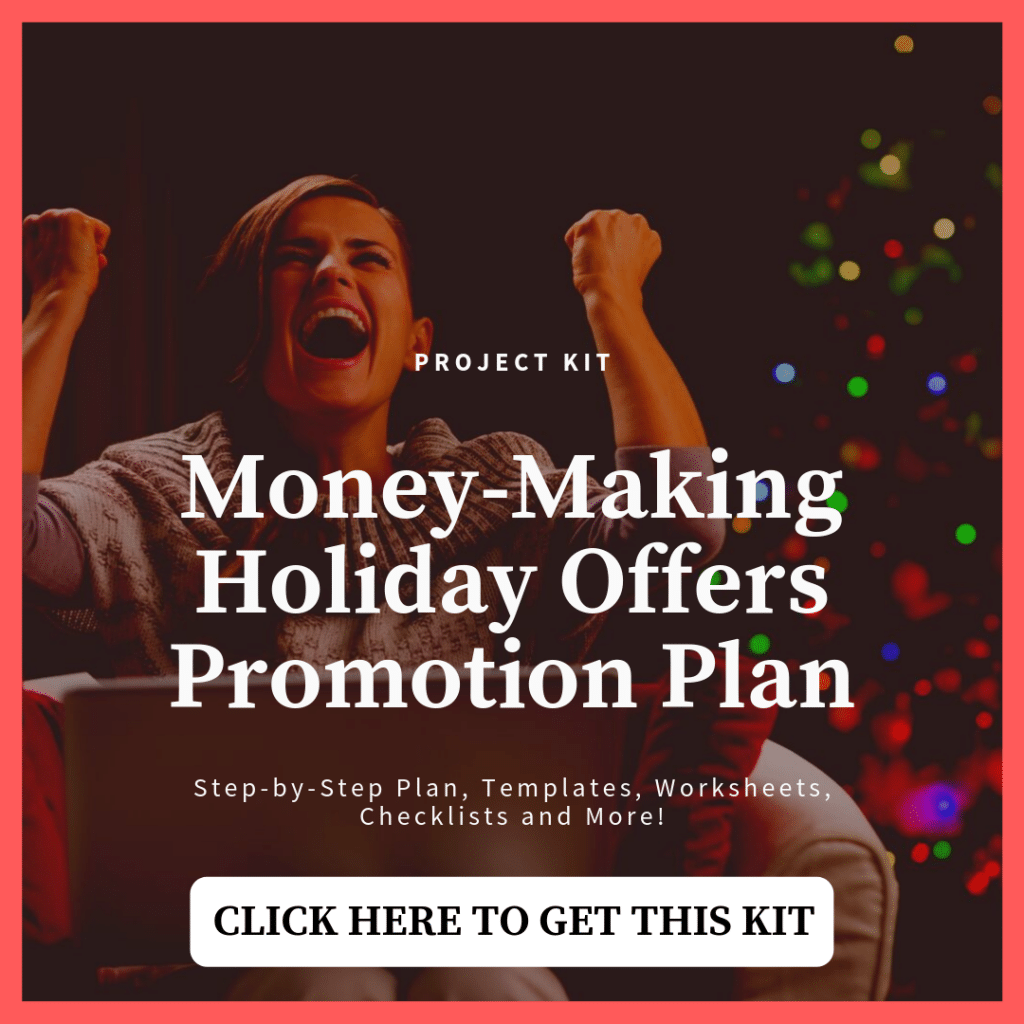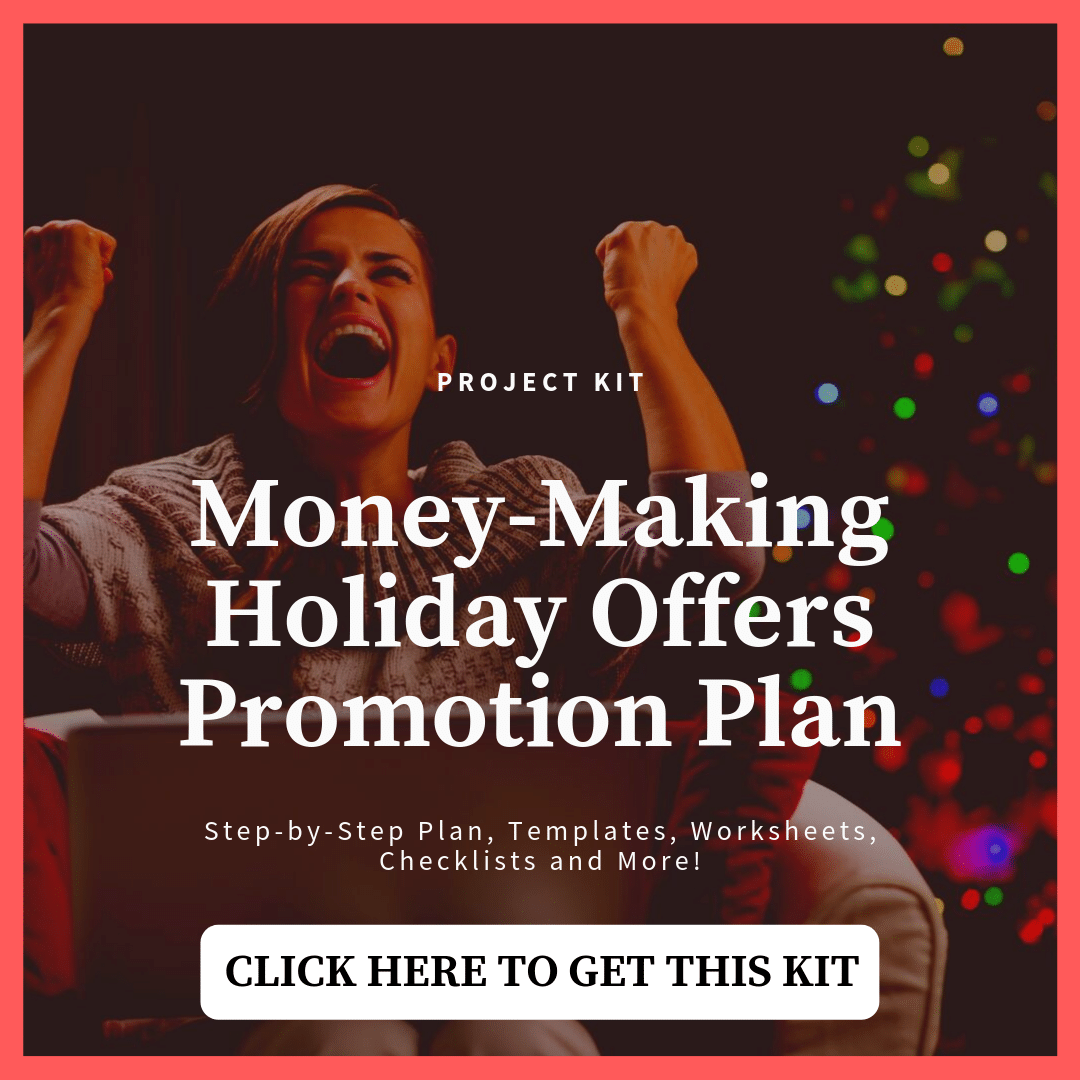 What Can Your Virtual Assistant Do to Set Up Your Holiday Promo Program?
To maximize your VA's time, you'll need to do a bit of planning in advance. This is especially true if you've never run holiday promos before, but also helpful if you've done them in years past.
Start by being honest about which tasks you need to handle personally. You need to be the person who decides what the promo is going to be, for instance! Your VA may have suggestions or opinions, but you know your business best and can gauge which offerings will work for this particular promo.
You also need to handle setting the price point, creating sales goals, and possibly writing the promo emails and sales page copy yourself.
Then think about which tasks your virtual assistant can support most easily. Maybe you need help actually setting up the product, like putting together a bundle of products for the promotional push.
If so, your VA can help by getting the sales page ready, hooking up the "buy" button, creating promo graphics (if she's got design skills), connecting with affiliate partners about promoting the offer, writing Facebook ad copy, or sketching out a social media calendar to spread the word about the offering.
She might be able to do all of the above, or just a handful of these tasks. Be open to discussing her preferences and availability!
Then create a plan together. Break the work up into weekly chunks, and decide who'll do what, and when. Making this collaborative will make it easier and more fun for both of you.
How to Make it Easier Next Year!
If this is the first time you and your virtual assistant have worked together on holiday promo prep, be sure to document the living daylights out of everything.
Create a plan that can be replicated so you can "rinse + repeat" it every year or every holiday (Black Friday, Christmas, New Year's). There's no need to start from scratch every single time.
However, you'll also want to build in room to tweak and improve your plan. Track the results of your marketing efforts around this offer (or group of offers) so you can make changes next year.
What worked?
What didn't?
What feedback did you get?
What do you wish you'd done?
Keep this documentation with the rest so you can revisit with your VA when next fall rolls around.
Still not sure how you and your virtual assistant can partner to make this holiday season a prosperous one?
You're in luck! My Money-Making Holiday Offers Promotion Plan will help you create product packages and irresistible offers that will have you raking in revenue when the snow flies!
xoxo
Melissa