A not-so-well-kept secret to success is taking the leap to scale one's business. But what does "scaling" actually mean?
Is it the same thing as just growing your business?
Well, yes and no.
Scaling means, specifically, taking your businesses to the next level — increasing revenue — without spending a correlating amount of money to do it.
And, doing it in a way that won't create hardship on your team, or force you to hire more freelancers when you really might not be ready.
If you want to scale your business so that you increase your monthly revenue by, say, $1,000, you don't want to have to spend $1,000 — or even $500 — to do it.
Nor do you want to create 20 more hours of work for yourself each month. Spending as little money and effort as possible is the key.
Sound tricky? Not so much!
There are a number of ways to tackle scaling that don't involve investing big bucks in a hot new ad campaign or adding to your own workload.
Creating a plan for scaling your biz is essential to keeping yourself focused, and to help your virtual assistant and team members manage the process.
Here are three crucial steps that will help you boost growth without hemorrhaging money.

But first…do you want to create more freedom in your business while growing your reach & income (without the burnout)?👇👇👇
THIS workbook will show you how to systemize + automate your business like a boss. Get the workbook here! 📋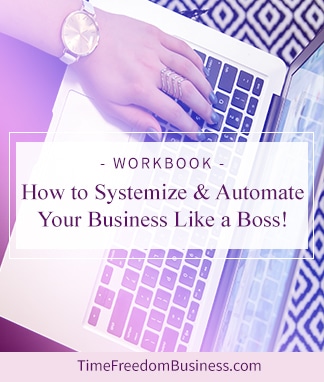 Scale Your Business by Raising Your Prices
This one might seem a little too easy, but that's because you need to approach it carefully.
Understanding your cost ratios per product is helpful here, and you don't want to mark something up so high that the ratio is way out of balance.
Nor do you want to increase the price so much that your current or past clients go running for the hills!
Look at all of your products, and do some market research. Are you undervaluing any of your offerings or classes? Which product or products look ready for an upward adjustment?
If you do choose to boost prices you'll probably lose a few clients, but that's fine. Remember that each price range has its natural market, and that you're doing this in the name of upleveling your business.
If you increase the cost for your monthly tutorials by 10-20%, there are plenty of people who will see that price as entirely reasonable, and those new clients will make up for the few you may lose.
That said if you mark EVERYTHING up by 50%, without doing deep marketing and audience research, you may lose more than a few clients … so don't get carried away!
Scale Your Business By Increasing Passive Income
Got any passive income products (like workbooks or templates) that need no work, but might benefit from some fresh marketing?
If so, try a new outlet or demographic for promoting them, or recruit some fresh, new affiliates to drive sales for you.
If you don't have much in the way of passive product, what are you waiting for?
Creating products with long shelf lives that don't need a lot of management and updating, is critical to scaling a small business.
A fresh social media push or an automated email campaign will continue to land you new clients for these products.
If you've not jumped into the affiliate marketing arena yet, it's time!
Basically, you find a product or service that is related to yours, and arrange for an affiliate business to promote you and take a cut of the revenue.
Affiliate programs have a lot of built-in perks, such as expanding your audience and finding customers you might otherwise never find. These programs take a bit of work to get going and to manage, but that's a perfect task for your amazing VA!
Scale Your Business by Building or Training Your Virtual Team
It's true that scaling means increasing your reach without spending big … but in many cases, outsourcing work actually SAVES you money.
After all, most virtual assistants charge $50/hour or less and your own time is worth far more! There will be an investment at the start, but you'll recoup it in no time.
Just look at affiliate marketing: keeping those relationships strong with regular communications, helping your affiliate craft messages that will sell your product, and heck, just finding the perfect affiliates (a lot of Google time!) — these are all tasks that a team member can churn out while you are doing the strategizing, the creating, and the selling of your premium packages.
Your marketing and social media team members can do the research and maintenance work on price increases, affiliate work, and those passive offerings that keep selling.
Just provide clear outlines for each area when you are ready to scale up, my friend, and let them take over the nuts and bolts.
In the meantime, you can focus on the Next Big Thing that will keep you scaling and growing to reach your biggest, most audacious goals.
You've got this!
xoxo
Melissa
PS. Not sure what your time is actually worth?, Click here to get access to my free calculator to find out what your time is really worth.