Why drowning in emails is a good thing…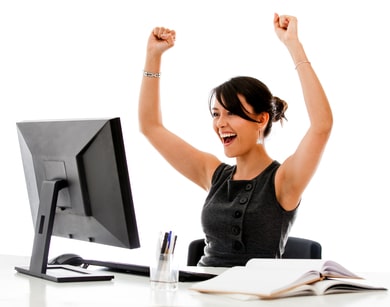 If your inbox is packed full of emails, that's actually good news because it means your business is growing – HIGH FIVE!
You have emails from your customers, clients, subscribers, and potential clients who have pre-sales questions, or they need you to help them with their orders and downloads, or would like a refund, or they're struggling with a tech issue they want you to solve, etc.
The not so good news, is that you can spend hours of your time every week just trying to manage your inbox in an effort to keep everyone happy.
But when you're stuck in your inbox, you're actually doing your people a dis-service, here's why:
1. You don't have time to create more of the products and programs they love and want to buy from you.
2. You're too close to your business, so you'll take everything a customer says about you and your business personally – and that means you're more likely to respond in a very unprofessional way in the heat of the moment (and then you'll feel embarrassed and regretful almost immediately after you hit send on that email).
3. You're feeling frazzled and pulled in a million different directions, so you end up rushing through your emails without giving them the full attention they deserve (while missing out on opportunities).
About 5 years ago, when I realized that I was spending 12 hours a month responding to customer emails, I knew it was time to hire an assistant to help me.
It wasn't an easy decision for me because I wanted to personally help everyone, and I felt bad about passing them over to an assistant.
But I also knew that it wasn't in their (or my) best interest for me to continue to struggle to stay on top of all the incoming emails, and do so in a timely manner.
And the truth is, managing your own customer service really isn't the best way for you to be of service to your people.
If 2015 is the year that you're finally ready to hire someone to take over the customer service for your business (so you can get out of your inbox and back to creating all the things that will be of service to your people) you're going to love this…
My brand new outsourcing toolkit is called: "Delivering World-Class Customer Service" that includes tools and templates that you can give to your assistant.
This toolkit includes:
* Step-by-Step Action Plan to Give to Your Virtual Assistant for Delivering World-Class Customer Service (in .doc format so you can customize it for your business)
This Step-by-Step Action Plan Covers:
Step 1: Research the Best Options for Help Desk Solutions
Step 2: Help Desk Set-Up
Step 3: Gather or Create Supporting Materials
Step 4: Delivering Great Service
Step 5: Upsell Where Appropriate
Step 6: Recovering Lost Sales
Step 7: Dealing with Negativity
Step 8: When and How to Bring in Other Team Members
Step 9: Take Ownership
Step 10: Collecting and Organizing Testimonials
Step 11: Collecting and Organizing Suggestions
Step 12: Researching and Responding to JV and Interview Requests
And you also get all this:
Action Tracker Checklist & Resources
Task Tracking Calendar
Monthly Results Report
4 Email Response Templates To Copy/Paste When Replying to Customers
Top FAQ Templates To Use as a Framework for Your FAQ Pages
Customer Service Team Flowchart to Use as an Organizational Example
47 Copy and Paste FAQ with Answers You Can Use on Your Help Desk
Tutorial: How to Give Your VA Restricted Access in Amember
Tutorial: How to Give Your VA Restricted Access to PayPal
Tutorial: How to Give Your VA Restricted Access to WordPress
Just hand this package over to your own virtual assistant and she'll have the plan and all the tools for providing your people with awesome customer service.
Check it out here: https://timefreedombusiness.com/programs/freedom-finder
Some of the links on this post may be affiliate links. That means if you click on the link and purchase the item, I may receive an affiliate commission as their "thank you" for sending you their way.