list of peeps I personally hire + outsource my biz tasks to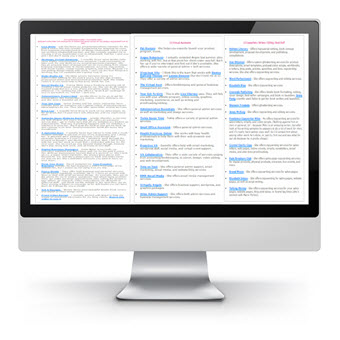 My peeps are always asking me who I hire and outsource to, or who I recommend.
Heck, maybe you're even one of the chickees who've sent in a note to my team asking for a recommendation.
Obviously, I'm the perfect the person to ask, eh?
Well…now I'm making it easy for you to find a great contractor – and even get the deets about my own personal service contractors.
I've put together a HUGE list of service contractors (75 so far), including 14 of my own peeps – and 61 others that I've starred for my own personal reference. So if I need a copywriter, a designer, a tech person, whoever – THIS is the list I refer to.
I did NOT just go to Google and throw this list together willy-nilly (because obviously I don't hire or work with just anyone).
This new list has been over a year in the making and is made up of a few people I've come across on my own, but mostly they're service contractors that have either been personally recommended to me from people I trust, or I've heard about them through the high-level mastermind groups that I'm a part of.
My list currently includes:
14 of my peeps (assistants, biz managers, design, copy, etc.)
15 virtual assistants
14 copywriters/writers/editors/book stuff
20 website designers/graphics
5 tech peeps
4 financial/legal resources
3 "other" services
AND…it's a list that I'll keep adding to, so you'll be able to just login to your account and refer to it whenever you need.
YES. I'm charging a small fee for you to access this list because if you're serious about finding and hiring someone, THIS is the list you want. If you don't want to pay the fee, and you have hours and hours of time to do your own research, Google's free 😉
Excited?
Get INSTANT ACCESS to this list today!
Some of the links on this post may be affiliate links. That means if you click on the link and purchase the item, I may receive an affiliate commission as their "thank you" for sending you their way.