If You're Not Leveraging Upsell Offers in YOUR Business, You're Leaving Money on the Table!
Creating upsell offers is really easy to do once you learn the process. Then it's just a matter of "rinse + repeat" for every product you put up for sale.
Unfortunately, most entrepreneurs skip this crucial step in their funnel – either because they don't know how, or because they're feeling lazy and don't want to do the extra work.
I totally get it! Which is why I put together this case study training.
Not only will you finally get to SEE how all the pieces fit together to form a profitable upsell offer, but you can also share this training with your own VA so she can learn how to earn you more money on every sale!
This case study is fluff-free!
It's short and sweet so you can learn what you need to know, and then take fast action to apply it to your business right away! You're NOT going to have to sit through an hour or more of boring training just to get to the meat.
Here's what you'll learn in this case study video:
I'll show you the exact $18k upsell income report in my shopping cart.
You'll get an inside look at exactly how I set up multiple offers in a single upsell system for maximum sales.
You'll learn my system for buyers who say "no" to my upsell offers and how I get them to say "yes" instead.
How I avoid "dead-end" sales and pack on the profits at every turn.
You'll Also Get a Swipe File With 5 of the Exact Emails I Use in My Upsell Funnel!

Plus You'll Get this Handy Upsell Process Flow Chart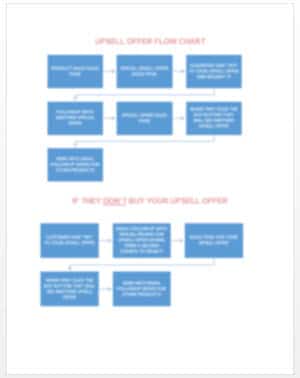 You'll get immediate access to the training video + you'll also get a swipe file with 5 of the exact emails that I use in my upsell funnel, as well as handy upsell process flow chart.
Get Immediate Access to the Training + Swipe Files Now for Only $47!