How NOT to work on your vacation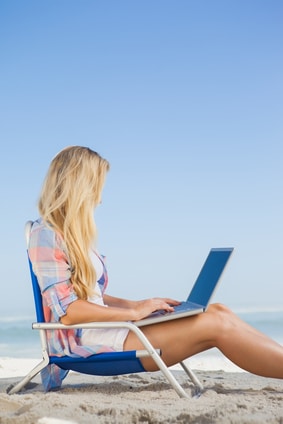 I remember when I first started my online business, I would get pretty frazzled just being away from the computer for a whole day. One particular weekend trip nearly sent me into a tizzy.
That was a long time ago. After that first overnight trip, I realized that things couldn't be this way. I needed to be able to get away from it all and not worry about a thing. I wanted a way to make sure it was business as usual while I was gone.
I think as online business owners we deserve a break now and then, don't you?
So here are your 3 thoughts on how to make your vacation a non-work vacation:
1. Put together your plan: Write down everything that you need to do before leaving, what should be done while you're gone and what you'll need to do right after you get back. Complete the tasks that should be done before going, give an itemized list to your assistant and other helpers of what they should do when you're gone and start digging into the stuff that you'll have to do on your return.
TIP: Planning for what you have to do right after you get back helps reduce that "after vacation stress" that is common upon returning to work. If you can, try to get some of these tasks ready…so you can go easy on yourself when you're back in the office.
2. Outsource the day-to-day and administrative tasks: Yeah, you knew I was going to mention this one… but sorry, but if you want a break now and then, you're gonna have to do it! Have your assistant ready, trained and already handling your customer support and general inquiries. Don't wait until it's vacation time and scramble to find help. Start training and working with someone now, so they'll know all the ropes by the time you need time off.
3. Schedule blogs posts and emails in advance: I write 90% of my blog posts + emails in advance and schedule them in to go out on the day/time that I choose, that way I don't have to worry about staying in touch with my peeps while I'm away, and it helps me to keep the money flowing in too 😉
How do you plan for your vacations away from the biz?
Want to Create a Rock Star Team?
Training your team is the KEY to success with outsourcing. It doesn't matter how experienced or skilled your team member is, if you don't train them they're 90% more likely to fail!
Teaching my team how to work in my business is why I'm able to turn a brand new team member into a rock star within 30 days of hiring them.
I've created a library of training documents & videos to support them, which sets them up for success. If they're successful, I'm successful!
And now, you have the opportunity to save a ton of time + money by using my done-for-you plans and templates to create your own team training library. I've created training kits on a wide variety of tasks such as, Telesummits, Book Writing, Book Launch, Free Webinar Funnels, Facebook Pages, Podcasting, Customer Service, and more!
Some of the links on this post may be affiliate links. That means if you click on the link and purchase the item, I may receive an affiliate commission as their "thank you" for sending you their way.