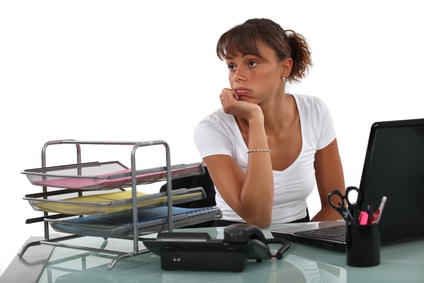 If I had a dime for every time an online entrepreneur told me they had trouble staying focused, completing projects, etc., I could retire from Internet marketing and live quite comfortably 😉
We've ALL been there.
With so many ideas and opportunities popping up, it's easy to lose focus. Even though many people online make it seem that new projects and ideas are the answer, but seriously those things aren't really the way to make more money online especially in the long-term.
Whenever I see someone following the too-many-projects path, I ask:
"What can you do to take you've already got and make it better?"
It doesn't matter if you have just one content site, a few ebooks for sale or are selling consumer goods. There are ALWAYS things you can do before you jump overboard a ship you've worked so hard to get afloat.
(And ahem, please don't tell me, "I already knew this," because if you aren't ACTUALLY doing these things, you don't REALLY know them.)
1. Track Your Links
Track it all. Track links in every email, every thank you pages and on your web pages. Sure, there may be some search engine benefits to some of your web page links, but do some tracking, so you know what's working. Tracking helps you gain a deep understanding of your readers and will help you shape future promotions, content creation, etc. Don't just GUESS what your readers want.
2. Improve Your Current Offers
Use your tracking data to improve the offers your making in all aspects of your marketing. If a product isn't performing, try a new one. Change your copy to include a stronger call-to-action and track the results. Always work to make things BETTER.
3. Create Better Backend Offers
Don't forget your backend sales. Many times I see people who aren't even using this part of their business to their advantage. A satisfied customer that has purchased once is more likely to purchase again. Instead of focusing all your attention on getting NEW customers, make the most of serving and satisfying the customers who have already proven they're willing to open their wallets.
4. Leave No Leaf Unturned
Are you using all of your valuable real estate? Have you customized your thank you pages, emails, error pages, etc.? Have you reviewed all your content pages and autoresponder messages to ensure you're making the most of EVERYTHING? Sure, it can be time-consuming but it's easier to get more out of something that you already have in place than to start from scratch.
If you're feeling distracted and less than excited about your current business situation, just take one or two of those ideas today and start to make your business BETTER, instead of throwing more irons in the fire to distract you even further once the fizzle has worn off.
OR…
If you really want to go the extra mile, I want to to let you in on the details of something I have been secretly working on that is so incredibly powerful it's been hard for me to keep it under wraps 🙂
So, I'd like to give you a look at the movement I'm creating and reveal the details now about my brand-new workshop.
It's like nothing else I've ever done.
It's called The Tweak Your Lifestyle Workshop.
There's absolutely no reason that any woman should not have an amazing life and a business that supports it…supports them.
This is a four-week course taught personally by me and we officially start on October 24th, 2013 (hint: that's NEXT WEEK!).
I'll be teaching you through short video sessions and I'll cover what I consider to be the "holy grail" on how to create a business that makes you super productive without having to work all the time – and it's super easy to do.
Apart from the content, the program also includes a live Q&A coaching call with me so you can personally ask me questions. And you'll also get access to a private facebook group so you can ask questions, get feedback and support as you work through the lessons and assignments with the other students in the class.
Get FULL details and register here: Tweak Your Lifestyle Workshop
I'm so looking forward to doing this with you…
As always, thanks so much for reading. I'm incredibly honored to have you in my life and I'm here for you 🙂