Tired of Clients, Sales, and Opportunities Slipping Through Your Fingers Because Your Marketing is Inconsistent and You're Not Very Organized?

Are You Finally Ready to Get Serious about Working with Your Virtual Assistant so You Can WORK LESS and LIVE MORE?
Bravo! You've decided to run your business like a true BOSS and that means...
You can finally take a day or two off every week to do something fun.
You can finally stop working into the wee hours of the morning and get a good night's sleep.
You can finally stop stressing out over email from "haters" or dealing with refund requests.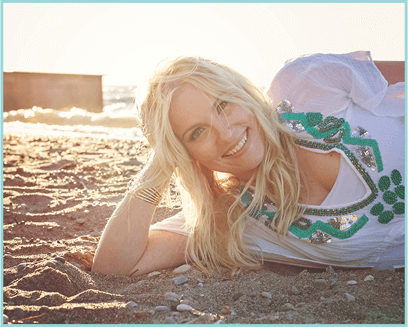 …or can you?
Here's the thing...Hiring an assistant is just the first step in getting support for your biz.
YOU still have to be the leader and call the shots.
YOU still have to create the to-do lists.
YOU still have to come up with the marketing plan.
And the thing I (and many other entrepreneurs) have found is: This isn't always easy.
In fact, one of biggest reasons that business owners have a "bad experience" with outsourcing is because they simply don't know what to outsource.
HERE'S HOW IT LOOKS:
You hire someone you believe is a total shining star, a new business BFF, the one person who is FINALLY going to help you get it all done – hallelujah!
But...because you're not 100% sure HOW to grow your own business or what tasks will get you there, your assistant spends the month twiddling her thumbs or working on useless tasks you think up on the fly.
Then the end of the month rolls around and it hits you that you've spent all this money and still, nothing got done.
Not to mention, you've continued to miss amazing opportunities, stress yourself out over missed sales and now have an ever-growing list of great ideas that are just piling up on your desk (okay, Evernote). So you fire your assistant, quit outsourcing and chalk it up to a "bad experience".
The thing is, when you dive into outsourcing without knowing what you want to outsource, you're basically throwing money away – that's how much of a waste outsourcing is without a plan.
But Planning Takes Time and Energy
and You Just Don't Feel Like Doing it!
I hear you!
You're already sooo busy running the day-to-day of your business that the last thing you feel like doing is figuring out ways your assistant can help you with your marketing.
Heck, you're not even sure what YOU should all be doing, let alone what you should delegate! So you stay drowning in client work and busy as a bee working IN your business – even though you're shelling out hard-earned cash to have someone help you.
But – and here's the kicker – this isn't just about your business, beautiful. All your "busy-ness" is affecting every other area of your life.
YOU are constantly annoyed and overwhelmed with everything you have to do in your biz, family and around the house
YOUR HUSBAND hates that you're always "working" and "too tired"
YOUR KIDS don't remember the last time you freely and joyfully played with them...without stopping to check your email
YOUR WAISTLINE is rebelling because you have to hit up the drive-thru a few times a week (and you've kinda started to live in yoga pants).
YOUR GIRLFRIENDS have just about had it with you cancelling happy hours and mani/pedi dates because you simply "have to work"
This is SO not what you signed up for when you started your biz, is it?
Well, lady boss, here's a question for you:
What if There Was an Easy, Completely Done-for-You "Marketing To Do List" You Could Hand Off to Your Assistant Each and Every Month so She Could Market Your Business FOR YOU – and Give You More Time to Do What You Love?
Seriously though…What if:
You never had worry about the day-to-day marketing of your biz ever again!
You had infinite flexibility and freedom in your schedule to do the work you want, from wherever you want?
You were able to focus on ONLY what you LOVE in your business and had ample time implement all your awesome ideas?
You never had to spend "family dinners" emailing back and forth or lug your laptop to another one of the kids soccer games?
You actually had time to take care of yourself (home-cooked organic meals, weekly manicures, monthly massages, daily gym trips…) AND run your business?
You felt you were truly getting your time and money's worth from your current assistant, or confident enough to hire a new or first assistant?
You knew EXACTLY what high-value marketing tasks to outsource to your assistant to grow your business, each and every month?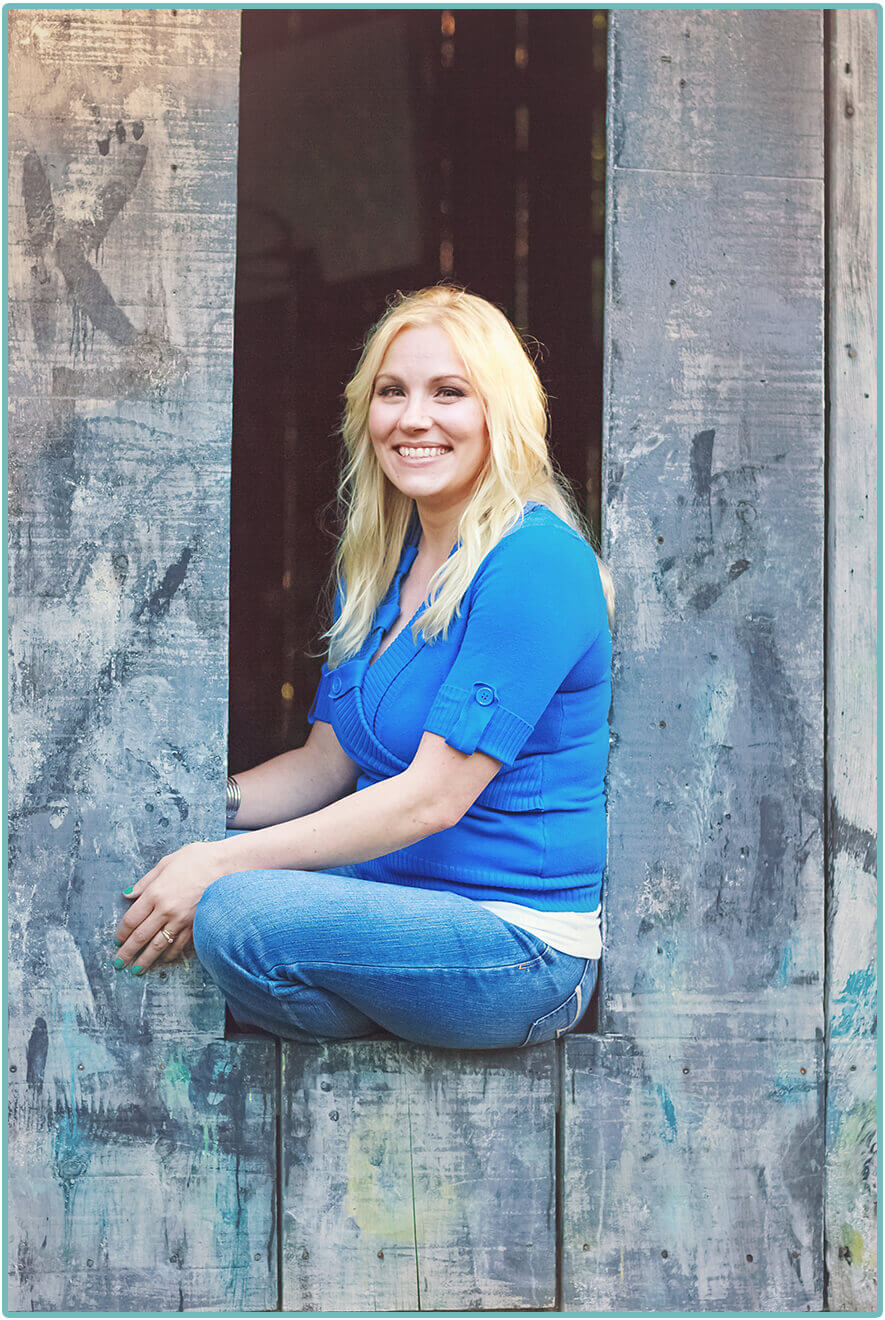 How would that feel? Freaking amazing, right?
Melissa Ingold has the experience and wisdom to know that multi-tasking is NOT magical. The real genius comes in being able to make a task 'hands-free.'Her skill in assembling a team and getting results from start to finish, with as little stress as possible, is nothing short of incredible! I've watched her master content creation, launches, site management and continuity over the last few years with what seems like ease! And the truth is…it's her magic wand she waves to make things happen. Great job, Melissa! Keep up the amazing work.

Carrie Wilkerson, CarrieWilkerson.com
Melissa Ingold is an under cover extremely humble, brilliant and loving business woman. She has a powerful story and knows first hand the magnitude of creating a business that works for YOU. So many female entrepreneurs are the bottle neck in their businesses and it's slowly sinking them. Using Melissa's intelligent systems, tools and structures; businesses can break free and create passive income while still making a huge impact on their tribes and most importantly truly being present and at ease with the gifts in their own lives. I highly recommend following Melissa and taking action and implementing her systems!

Amanda Moxley, AmandaMoxley.com
Melissa Ingold is amazing at outsourcing. She constantly impresses me with how she is able to outsource EVERY single aspect of a project. When we worked together, she had us running an entire business, completely hands-off…from content creation to uploading the materials. It was truly set it and forget it, and that's because she knows her stuff SO well. The people she works with love her, she has learned how to get incredible work from people, and she's the best I know at QUALITY outsourcing. She rocks!

Rachel Rofe, RachelRofe.com
Well you're in luck, because I've created a program that takes the incredibly overwhelming task of knowing what the heck to outsource to your assistant and turned it into a seamless, (almost entirely) hands-off process that will completely transform your business and life.
Introducing...Freedom Builder Academy!
Here's How it Works:
My Done-for-You Project Kits essentially puts your assistant on autopilot.

You'll Receive an Entire Library of Project Kits Filled with Templates + Checklists+ To-Do's for a Specific Marketing Channel – from Social Media to Book Launches – All in One Neat Package Ready to be Customized and Sent Off to Your Assistant

What is the Freedom Builder Academy?
The Freedom Builder Academy is a yearly subscription service that provides you with:
Access to the Library of Project Kits for all Your Business + Marketing Tasks that You Can Hand-Off to Your Assistant - Each kit includes done-for-you marketing plan, checklists, templates, task tracking calendar, swipe files, and so much more that you can hand off to your assistant each month to grow your business by leaps and bounds.
Access to a Brand New Project Kits - I will be releasing new kits on a regular basis, filled with a fresh marketing plan, templates, and more so that you can grow your library.
Project Assignment + Procedures Templates - These templates make assigning tasks to your team members easy because you'll know exactly what to ask for, and they'll know the procedures they should follow to complete your tasks.
Plus, You'll Also Get Access to:
Standard Operating Procedures Guide + Template - Creating documents for the various tasks in your business is super smart. Even if you're not outsourcing yet, you can start doing this now, so that when you're ready to bring on an assistant, you'll have everything she needs to get started. And the beauty of having these documents, is that you can use them over + over again as your bring on new team members, or someone leaves and you bring on someone new. It sure beats starting from scratch every time you hire. You can create SOP's for everything from managing a project, to launching a product, to posting content to your blog, and more!
Business Operations Manual Template - This is a must have piece of documentation that you can use to teach your new project manager, operations manager, or executive assistant about your business. This is not for teaching "tasks", but for explaining who you are, what your company is about, what you do, what your systems are, and so much more! This information is key for any high level team member because they need to have a birds-eye view of your entire business if they're going to be able to work with you successfully. Just fill in all the sections and save!
Training -  I've created a variety of training audios to help you in your business, from getting it all done, to uncovering the time leaks in your business, to project planning and more!
It was designed specifically for women business owners who want to make delegating easy as pie, and have more time and freedom to focus ON their businesses – AND still have a life outside of it.
When You Become a Freedom Builder Academy Member You'll Get Instant Access to the Entire Academy of Kits Listed Below + Bonus Templates and Tools  for as Long as You Remain a Member!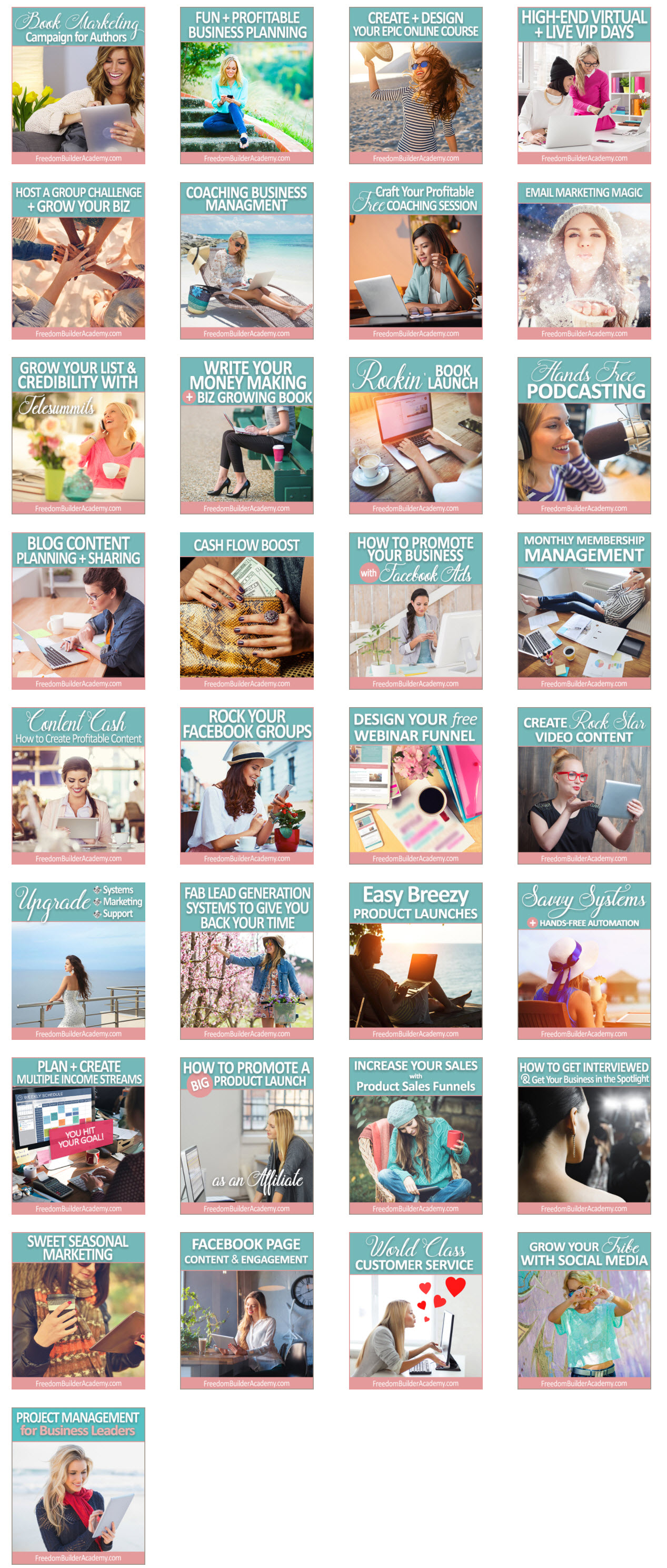 You'll Also Get Access to These Team Training Templates:

And You'll Also Get to Use the Company Organization Chart Builder: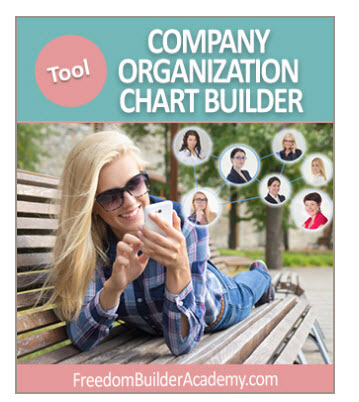 Plus You'll Also Get Access to These Additional Business Building Tools: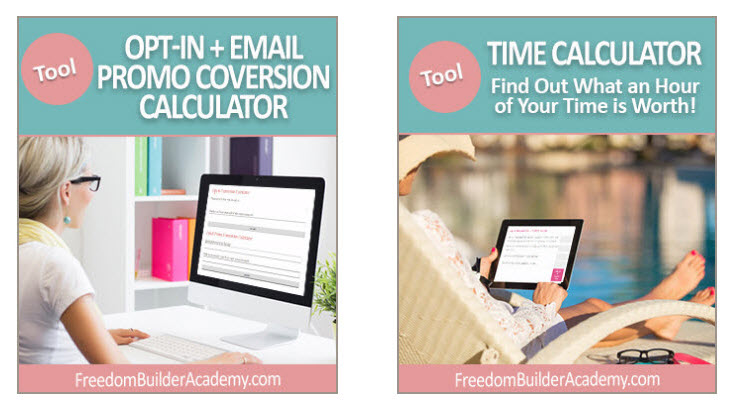 And You'll Also Get Access to These Business Building Templates: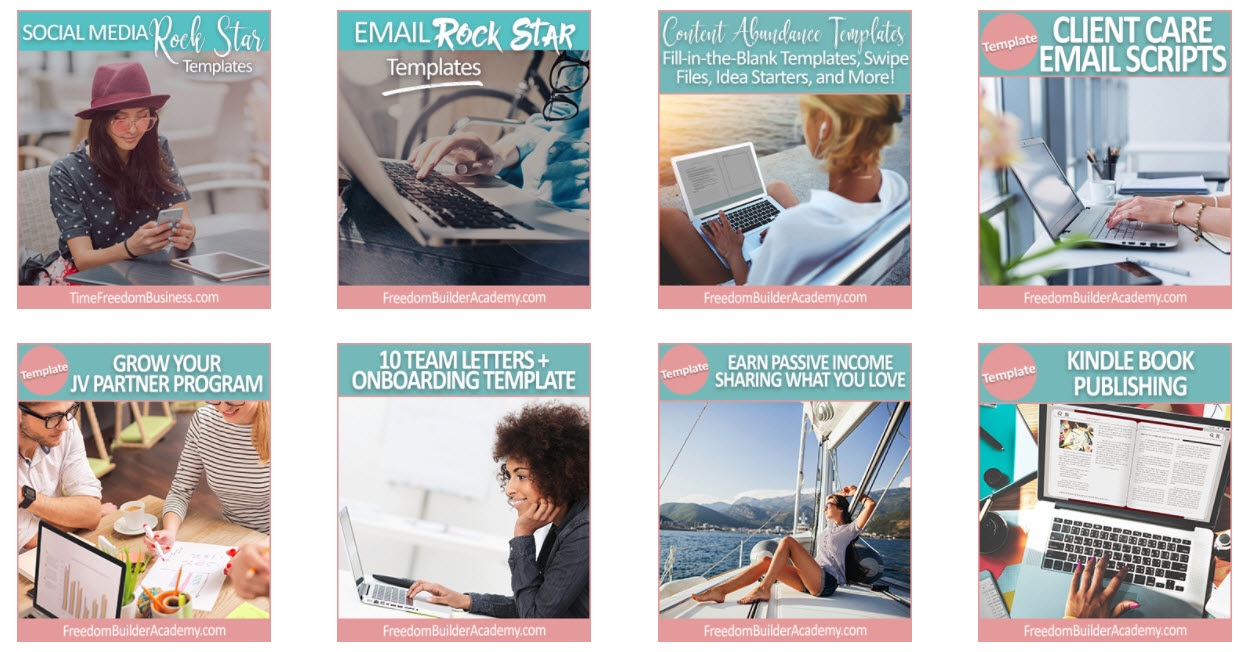 Plus You'll Get Access to These Training Calls Hosted By Melissa:

Access to My "BOSS! Triple Your Productivity in 30 Days While Doing Less!" Program: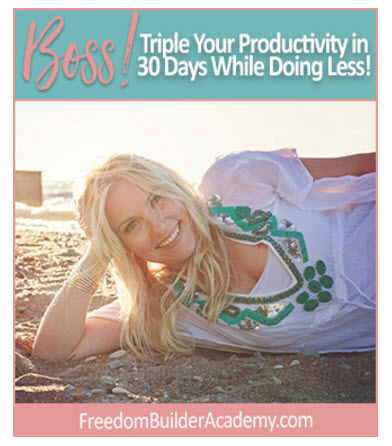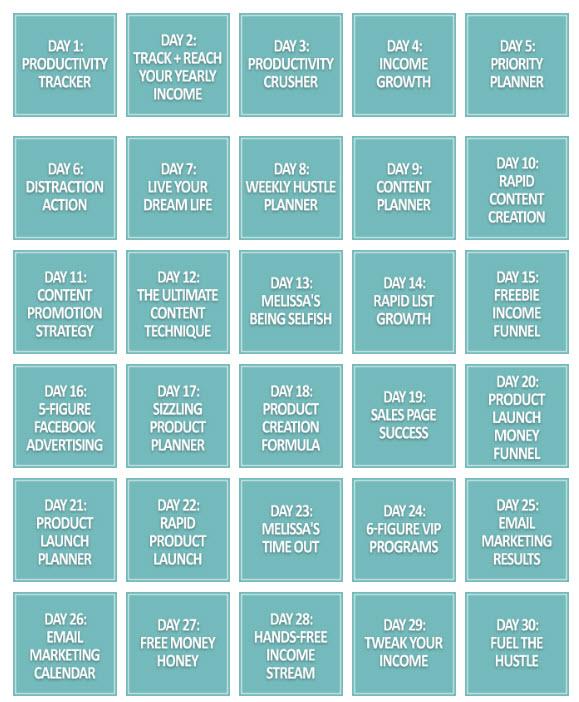 Here's What's Coming to the Academy in 2017: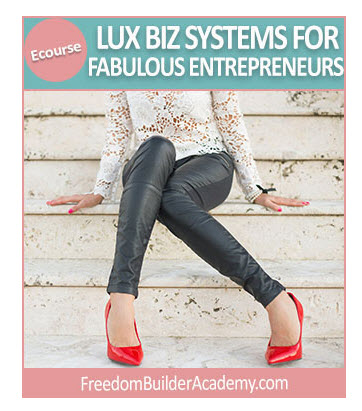 I love the Freedom Builder Academy! For years I was one of those entrepreneurs that hated to delegate. However, the only way to upgrade your business and your life is by having an amazing team. My excuse was always the same: it'll take too long to explain how to do XYZ so I may as well do it myself. Enter Freedom Builder Academy. Thank you for helping me to learn how to build a team, outsource and delegate. I thank you, my business thanks you, and my loved ones thank you! Start with her calculator to find out what an hour of your time is worth and go from there.

Abiola Abrams, ManifestYourMagic.com
I've used many of the Academy project kits over the past couple of years! But since I'm in the process of writing a couple of books, the Rockin' Book Launch and Book Writing kits have been especially helpful. Plus, I'm creating a free e-course to go with one of the books, so the Design Your Epic Online Course is coming in handy as I create that as well. Previously I was a member of a similar (and more expensive) template group, but those couldn't begin to compare with the value I've received from Melissa's kits!

Marlys Arnold, TradeShowInsights.com
Coming across the Freedom Builder Academy has done wonders for my business. It gave me insight into where to put my focus and energy into my business and what I can start outsourcing. The resources are beyond my expectations, from checklists to flowcharts. It's also easy for me to be able to catch where I am spending my time wastefully. I look forward to every monthly download!

Theresa Baretta, TheresaBaretta.com
The tools from the Freedom Builder Academy has made me excited to create better and more consistent content. Not having to build everything from the ground up has helped move me from a state of analysis paralysis into action!

Anna Hawthorne-Harris, IconicLifeMentor.com
Thank you, Melissa, for this amazing content. I was able to add several more clients to my list by outsourcing so much MORE than I had before. It's much easier to only focus on the things that are actually making me money.

Josie Kapetsonis, HeyJosie.com
I love the Freedom Builder Academy. It helps me to better plan for my business growth and it helps me communicate better with my VA. I love all the worksheets, tools, and training. This is the best investment I could have ever made for my business!

Valerie Priester, VictoriousLifeCoaching.com
We cover a lot of ground, and over the course of a year, your assistant will implement tasks to grow your business with…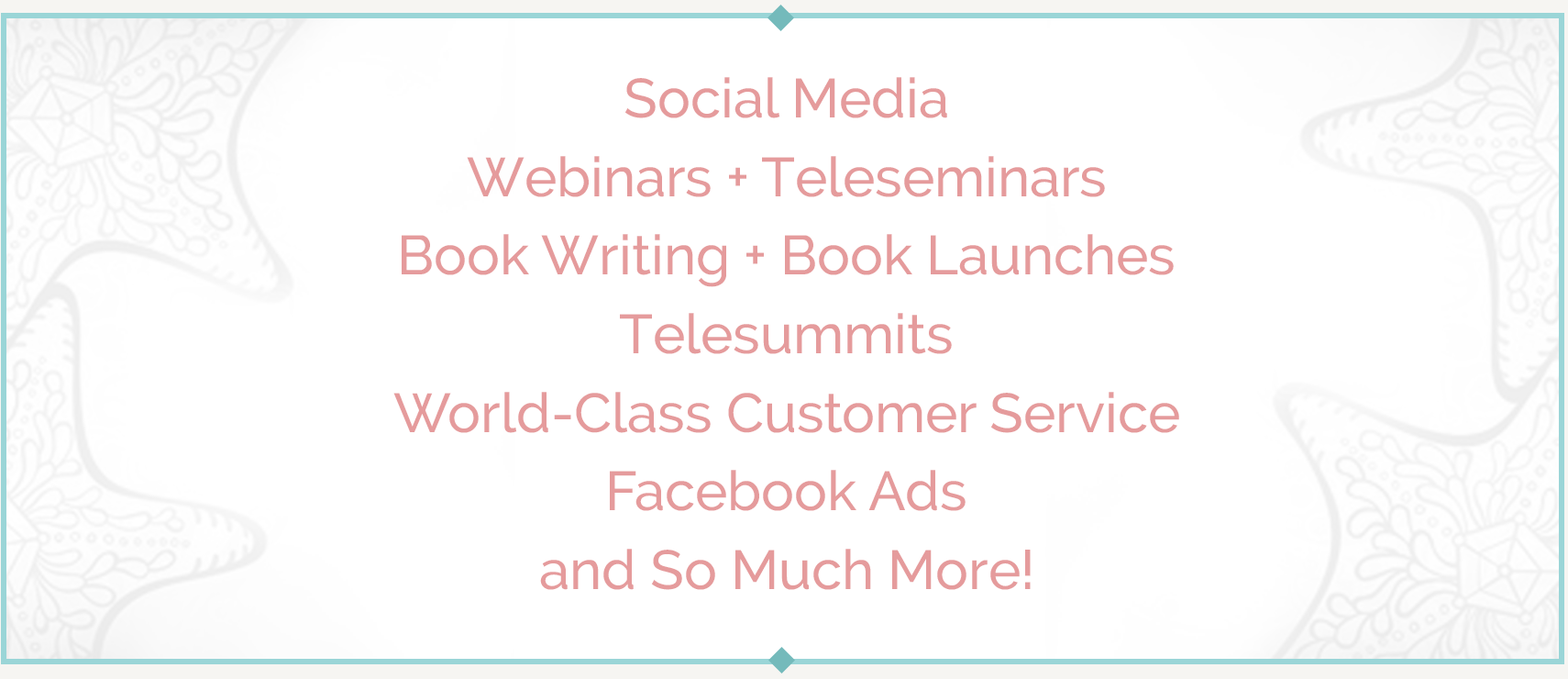 All you have to do is hit your download area, pop in your company's goals and add any additional tasks for your assistant…and then sit back, relax and focus on what really matters to you.
Your assistant will know exactly what to do each month to grow your business and you get to do more of what you love. Everybody wins!
If you want to stop obsessing over what to outsource and have more time to do what you love, the Freedom Finder Done-for-You Action Plans will help you change the the way you outsource so you can grow your business exponentially – and keep your sanity, too.
And the best part? You pay a small fee only once a year to have access to the entire 12 months of plans. Easy, peasy.
Ahhh...Imagine how much free time you'll have once you allow in support!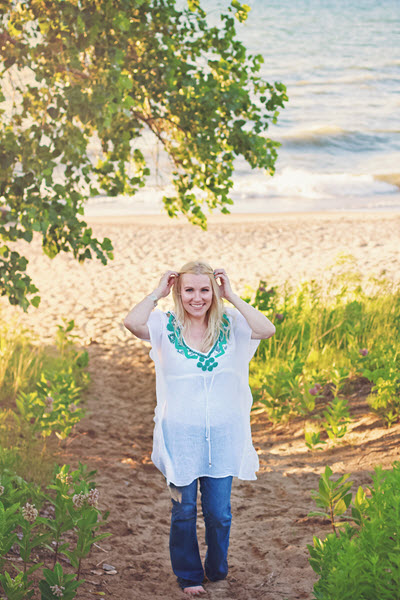 Here's What You'll Find in Each Project Kit
Each kit includes a hot, done-for-you action plan with checklists and templates sent right to your download area with the most up-to-date information on how to grow your business.
It's designed to be customized with little input from you and handed off to your assistant, so you can rest assured she'll have everything she needs to know to grow your business and give you more time to do what you love.
And...
You'll be able to stop secretly wondering whether you'll ever have the business + income you really want – or if you'll crash and burn from working too hard and too much and sacrificing everything you love – because you'll know your monthly marketing is completely off your plate and you'll absolutely have the time to focus on what matters most.


Customizable Marketing Plan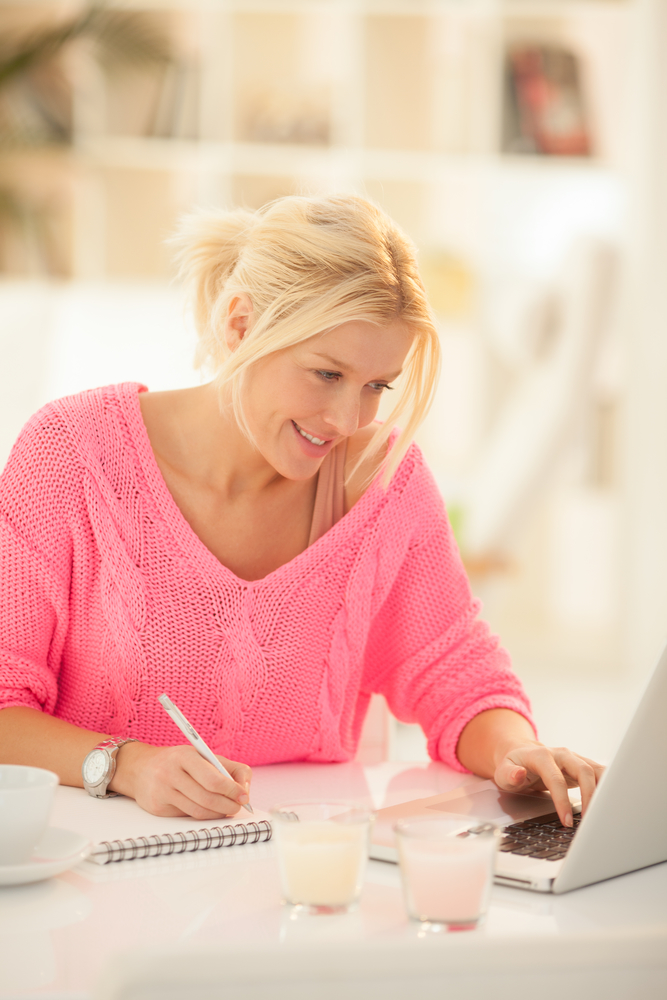 Each kit includes a plan on how to leverage a different marketing channel – it might be about promoting your business with Facebook Ads, the next on getting interviewed.
But here's the sweet part: All you have to do is customize the plan to your specific business goals and needs and hand it off to your assistant, confident she'll know EXACTLY what to do the ENTIRE MONTH.
And then, you can let out a sweet sigh of relief, confident that stuff's actually gonna get it done…and finally book that much-needed mani/pedi (without guilt).
You'll get this in .doc format so that you can customize it to your business needs, and add in any additional information you'd like to include.  
This Editable Marketing Plan Will Cover: (.doc format)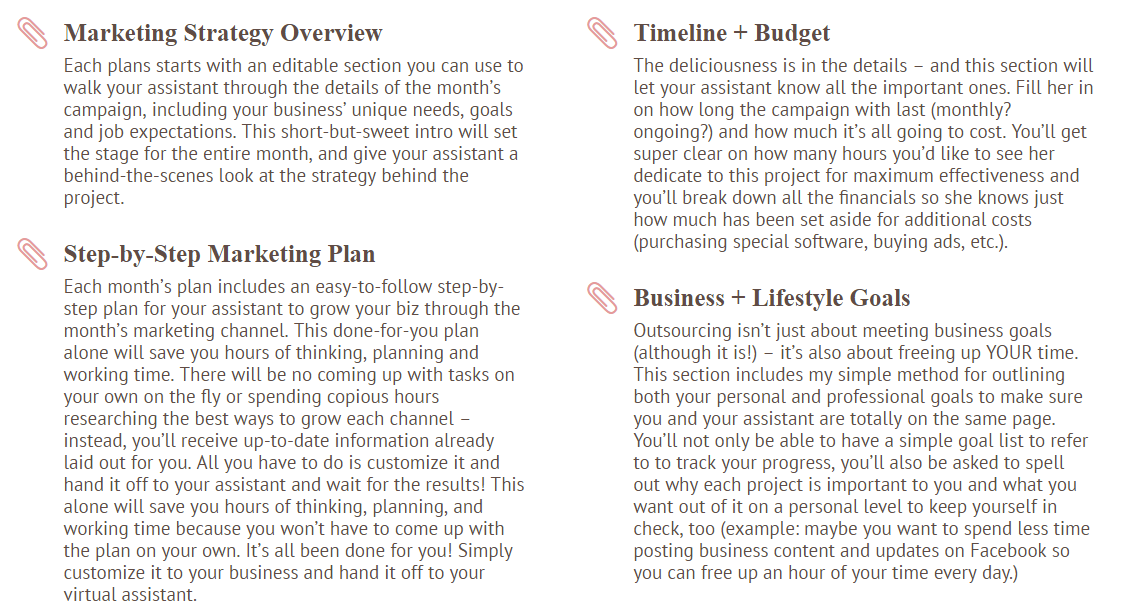 Here is are Two Examples of What the Marketing Plan Looks Like:


This alone will save you hours of thinking, planning, and working time because you won't have to come up with the plan on your own.
It's all been done for you! Simply customize it to your business and hand it off to your virtual assistant.

Action Tracker Checklists + Resources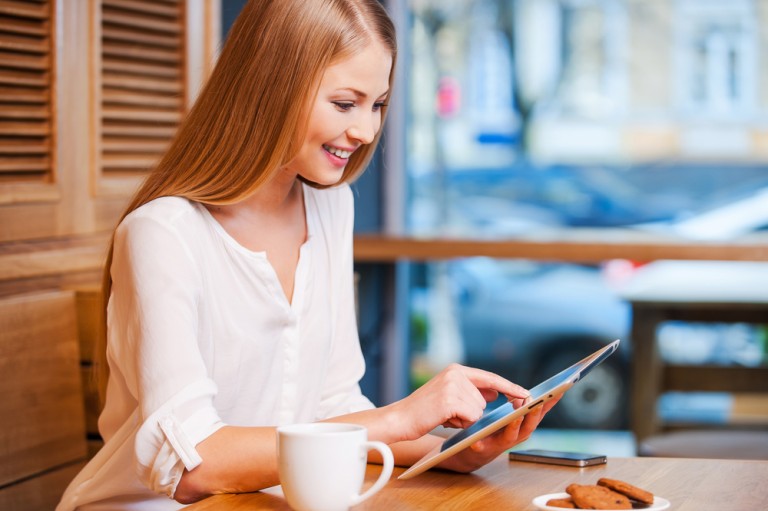 My own project manager swears by checklists. She uses them for all my business projects because they help her stay on track and make sure she doesn't miss an important step when she's working on a project.
Because my team and I know how important simple checklists can be to the operation of my business, I want to make sure that you're able to arm your own assistant with an all important checklist too.
So each and every month, you'll get a checklist that goes along with the month's marketing action plan to help your assistant stay on track. But no only that, we'll include any important resources that she may need to know about to help her get your projects done.
You'll get this in .doc format so that you can customize it to your business needs, and add in any additional information you'd like to include.
 Here is an Example of What the Checklists Look Like:


Task Tracking Calendar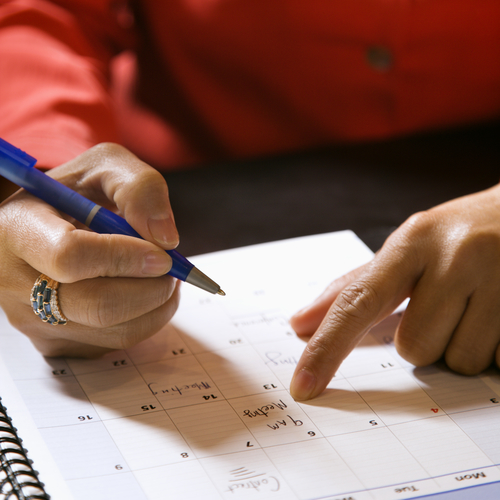 Because I know how freaking helpful calendars can be to giving you a snapshot of what needs to be done throughout the month, I'm also going to give you a monthly calendar that your assistant can use.
Task tracking calendars are my own secret weapon, and because I know first hand how freaking helpful they are for my own assistants, I include a new, completely done-for-you calendar each month in your Freedom Finder package.
This powerhouse of a document will include every task reminder your assistants needs to stay on schedule and meet important deadlines with ease (and without YOU having to step in and remind her or send off myriad back and forth emails).
You'll get this in .doc format so that you can customize it to your business needs, and add in any additional information you'd like to include. She can print it off, add the tasks to your project management system or both.
Here is an Example of What the Calendar Looks Like:


Monthly Results Report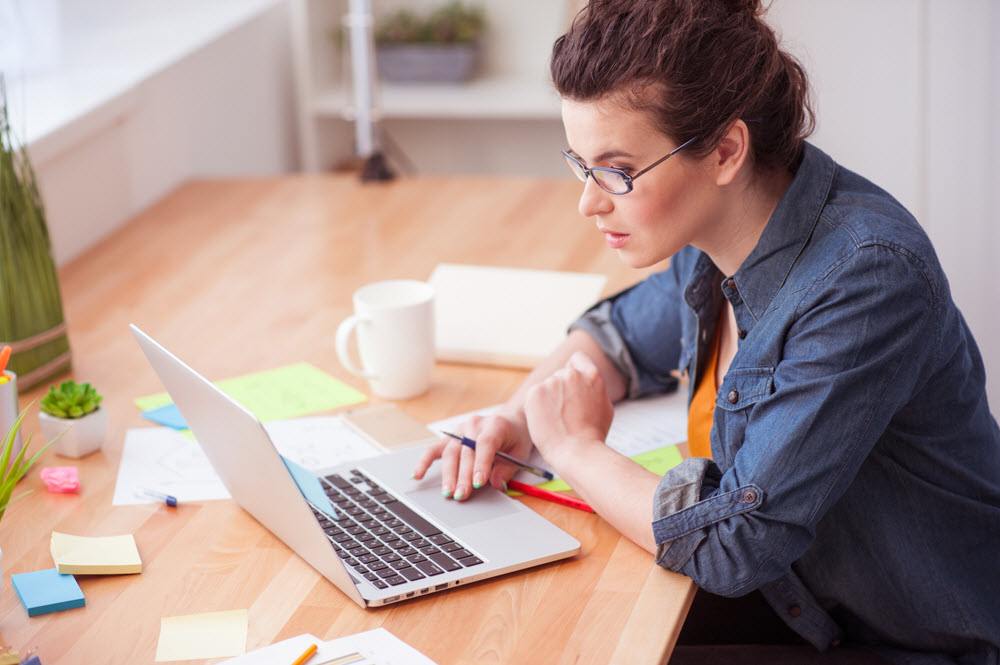 Ooooh baby! This is going to be soooo much fun for you to read, and super helpful to your business.
Wanna know where your business stands at the end of each month? Of course you do!
This final piece of the package is where your assistant will give you a full overview of the month's campaign results. You'll be able to see exactly what your assistant did (or didn't) work on that month, any hurdles that came up and (and how she handled them) and she'll have the opportunity to share her own questions, feedback, or suggestions.
This report is a great way to get your assistant super engaged in your business and brainstorm new ways to take the work she's been doing for your business to the next level.
Here is an Example of What the Monthly Results Report Looks Like:

Templates + Worksheets + Swipe Files + And More!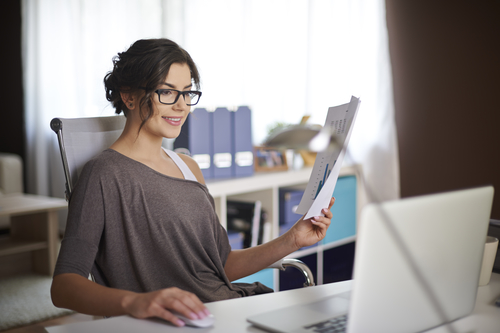 To make it even easier for you + your team to complete your projects, every package is loaded with additional templates, worksheets, swipe files, and more! Each package contains different items based on what will be most helpful for the specific project.
Having access to these tools are going to save you a ton of time + money + energy because you and your team are not going to have to start your project from scratch.
One of the best ways to SAVE MONEY on your outsourcing bill is by using pre-made templates like the ones you get in this program. Your assistant won't have to create brand new materials (on your dime) every time you want to host a webinar, or launch a book, or run Facebook ads.
Just tweak + reuse these templates and worksheets again and again! Imagine how awesome it would be just to have a library of templates on hand for everything from emails to a speaker kit for telesummits, a list of interview questions, workflow charts, consultation call template, client intake form, progress charts and TONS + TONS more!
Some of these items will come in .doc format so that you can customize it to your business needs, and and some of them will be in .pdf format because they don't need to be customized (things like monetization templates + some flowcharts).
Here are Some Examples of What These Look Like: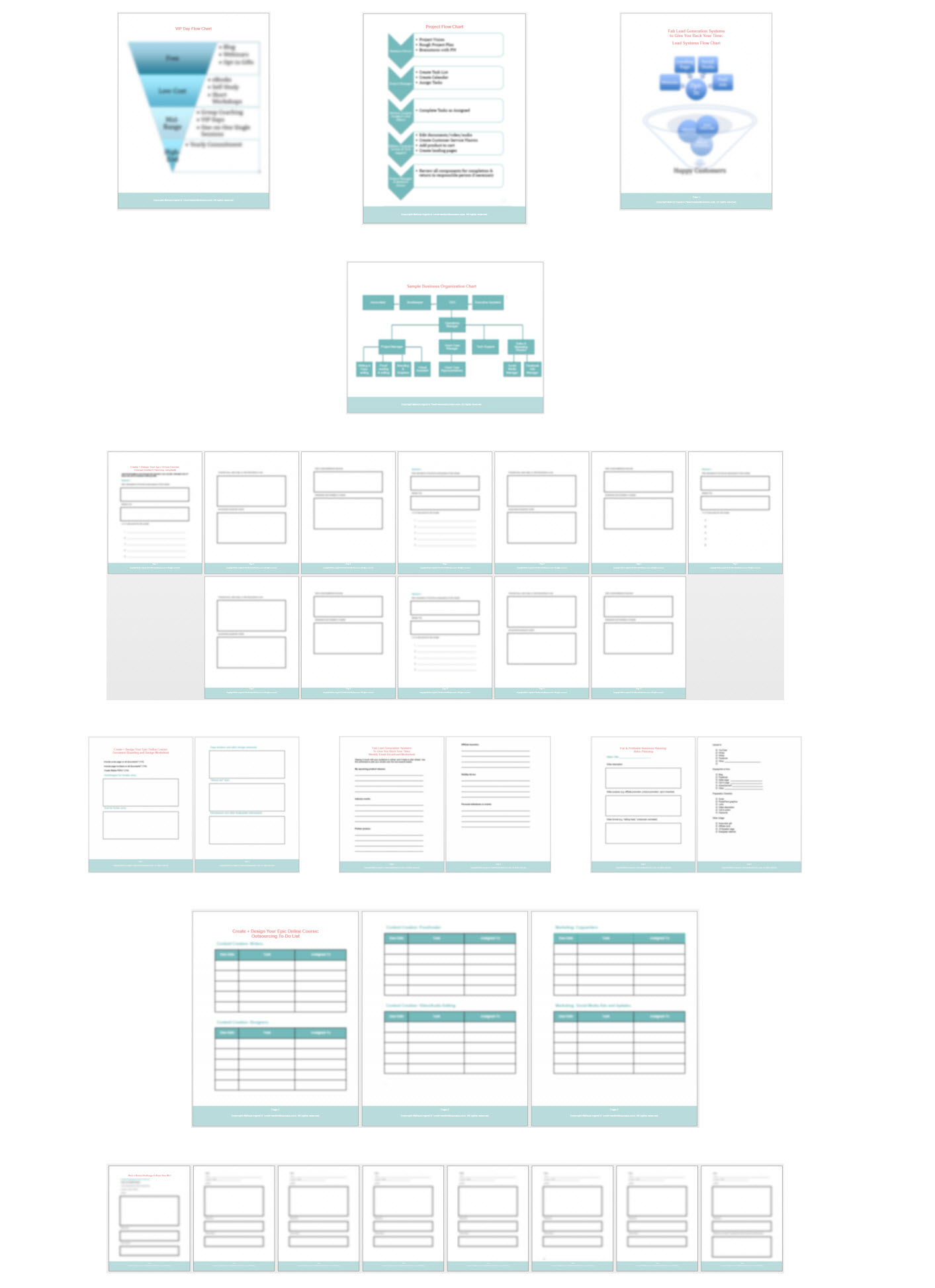 I love that all the tools are at your fingertips and all you have to do is apply them to your business. I have primarily used it to get my business started on a solid foundation and set myself on a path of freedom towards my own career. Melissa has ironed out all the kinks and you have the path laid out in front of you, its amazing. I am WOWed by every template I open along the way. There are tips and tasks that I didn't even think of! I haven't launched my products yet but the time saved on strategies, is worth every penny. I can't wait to launch with the comfort of knowing I have everything in place and the guidance to scale up when I am ready.

Lynn McAllister, Technologista.biz
The Freedom Builder Academy makes it easy to outsource, everything I need to leverage my team! I love it!

Marquesa Pettway, CSP, GottaSpeakNow.com
I've loved Melissa since 2009 and everything she puts out is golden. These project kits are complete time savers. If you are a business owner, it has everything you need, a turnkey solution to hand over to your assistant. If you are a VA, you will WOW your client by anticipating their needs and having an organized system ready to go. Love these kits!

Lisa Wells, LisaRWells.com
I started using the Academy products a year ago, to help me change my business plan in a methodical way. I have been blown away by the information that I have received on a monthly basis from Melissa. At first, it was overwhelming, but once I focused, I have been able to concentrate on changing my business and moving forward.

Elizabeth Hughes Callison, EHCBusinessServices.com
I've been running my Well-being Coaching Business for over 10 years and in all that time I have tried to take all my ideas for online and make them happen - but my online presence is still patchy at best and doesn't reflect the deep quality or success of my business at all. Then I come across Melissa's Academy. Suddenly, I can see how all my strategic thoughts can be made into reality - with very little time and effort on my part. In order to support my well-being the next 12 months will see a big difference as I implement the Academy content piece by piece to suit me. I LOVE the Academy. I get excited in my tummy just thinking about it!

Naomi Martell-Bundock, CoreSense.co.uk
What I love most about the Freedom Builder Academy is how I don't have to create the tools I need to be able to communicate well with my VA.

Mubarak Niwagaba Nsekarije, ParadigmShifters.ca
The Academy tools have been a great asset to my business. I use the planners on a daily basis to help me and my assistant stay on track. Thank you so much for producing a quality product that enhances my business growth.

Jennifer Wyatt, i-focussolutions.com
Melissa Ingold is a genius! She's taken all the work out of delegating tasks to your team with her Freedom Finder toolkits.  It's so easy. You just open it up, answer a few questions and hand off the rest to your virtual assistant. Now an entire part of your business is handled and you're getting reports and status updates from your team without you having to beg for them. You don't have to understand how the entire process works and you don't have to build out the entire process. It's as turn-key as you can get. You'll get more accomplished in your business, without working harder, and your assistant will be happier because you're giving her everything she needs to be successful. It can't get better than that.

Deanna Maio, DelegatedtoDone.com
Frequently Asked Questions

Does My Assistant Get Access?
Yes. You can give your assistant access in one of two ways:
By sharing your account logins with her so she can login to your customer account to download the packages each and every month.
The better and more secure way, is to download the packages yourself and put them into a shared dropbox folder or project management system for her to download.
But yes, you do have permission to share the files with your team.
I'm Not Ready to Hire an Assistant – Can I Still Use this kit?
Absolutely! You can use this for your own personal use to help you fast-track a business project or task. You'll save so much time + energy by using all the items in the kit. By documenting your business marketing and tasks, and building your library of training content now, you'll be in a much better position when you are ready to hire an assistant.
Are the Documents Editable or Are They Only in PDF?
Some of the documents in this kit are editable, therefore they can be edited by you and your team. For instance, the step-by-step marketing plan is always in .doc format, and so are any email templates. However, some of the items in the kit may be in PDF format. Generally, the only items that are in PDF format are the items that do not need customizing. For example, a flowchart would be in PDF format.
I'm a Virtual Assistant – Can I Use this Kit to Help My Clients?
Yes. You have permission to use this kit to help you work on a project for your client. In fact, your clients will be impressed that you have all these amazing tools on hand to assist them with their business projects. Using this kit will make your job so much easier + a lot more fun when you don't have to create things from scratch (like writing all those autoresponder emails or creating a telesummit speaker kit). Plus, this kit has the added benefit of teaching of YOU how to do something – which means, you can turn around and offer it as a new service to your clients.
Is this Private Label Rights Content (PLR)?
NO. You do NOT have permission to resell this kit in any way to your customers or clients. You can NOT give this kit away for free. This kit is intended for internal use within your own business.
What are the "Terms of Use" for This Kit?
This kit is intended for personal business use only: YOU CAN:
Use the kit yourself in your business.
Give it to your virtual assistant and other team members to work on your business projects.
Use the kit to provide services to your own paid clients.
YOU CANNOT:
Resell this kit in any way to your customers, clients, or members as this is not PLR.
Give this kit away for free.
If you have questions about these terms of use, please contact my team and ask.
Does My Subscription Automatically Renew After One Year?
Yes, your subscription will automatically renew one year from the time you signed up to avoid interruptions with your service. You don't have to worry about signing back up again after a year, or losing access to any of your plans. You pay a small fee just once a year and you're set for the entire year.
What if I Want to Cancel?
Simply login to your PayPal account and cancel your billing agreement. If you need help with this, just contact my team and they can do it for you, easy-peasy.
What if I Don't Like This, Can I Get a Refund?
No, your purchase of this list is non-refundable. You receive immediate access to the current library of plans with a new one being added each month, and this is offered in full faith that you are committed to the program for the entire year. By choosing to purchase this program you understand and agree that your purchase is non-refundable.
I love the well thought out material in the Freedom Builder Academy. One of my biggest areas of "stuckness" is not being well organized and missing things that I should not. It has been very helpful going through this material to help me get a handle on many areas of my business.

Melanie Nichols, SecondActIncome.com
I just recently started using the academy download project kits and I am very pleased with them. I just hired a VA and this made things a lot easier for me.

Nikky Volcy, IntentionalConcepts.com